5 Essential Building Blocks to Successful Trading
In this 6-part workshop series, Slim shares lessons from his 42 years as a trader and over two decades as a coach and personal growth facilitator. It is not like any workshop you have ever experienced! It's not a "how to" on a particular method of trading. It's a comprehensive learning experience on the 5 most important aspects of successfully engaging in the financial markets.
Building Block #1
"Define a healthy role for trading in your life"
Do you…
hope that success in trading will change something in your life?
go through cycles of success and failure?
set profit goals you can't seem to reach?
repeat behaviors that bring trading challenges?
have a trading plan, yet still get off course?
Building Block #1 helps you with these issues.
---
Building Block #2
"Build Emotional Fitness"
Do you…
react with strong emotions when things go wrong or right?
experience a lot of negative self-talk when trading presents challenges?
act in ways that may be distracting or harmful when trading gets tough?
feel stress over disappointing yourself or others in your life?
keep secrets about trading losses?
Building Block #2 helps you with these issues.
---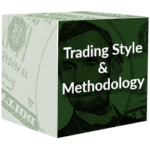 Building Block #3
"Balance Trading Style, Personality, Risk Tolerance" and more
Do you…
feel out of control as you engage in the markets?
struggle to find your best trading style?
know the best analytical tools to use based on your trading style?
wonder about the best trading vehicle for your personality?
know the best strategic approach based on your account size, experience, risk tolerance?
Building Block #3 helps you with these issues.
---
Building Block #4
"Adopt Six Key Areas of Discipline"
Do you…
start out the trading day feeling disconnected from the markets?
allow life's distractions to keep you out of focus?
act in ways that keep you mentally or physically unfit or are addictive?
struggle to stick to your designed trading plan and adapt to changing conditions?
take the time to build a strong base of knowledge about trading and markets?
feel alone, like you're in the markets with no one with whom to talk or set goals?
Building Block #4 helps you with these issues.
---
Building Block #5
"Create Your Own Unique Winning Formula"
Do you…
feel challenged on how to design a basic trading plan?
have reasonable expectations of returns based on your account size and experience?
know how to calculate reasonable returns?
understand the proper win/loss ratio to be successful in your style?
are you in the dark about how to get help to put all of this together?
Building Block #5 helps you with these issues.
---
This workshop contains:
6 videos
over 3.5 hours of unique, premium content
worksheets for each video to help you understand and apply the lessons

5 Essential Building Blocks – $297
You can save $50 by joining askSlim today. Just go here and join at the Bet, Raise or All In Level today. Once your membership has been processed, send a message to support@askslim.com to receive a link to purchase the 5 Building Blocks Workshop for only $247.
Already a member? Send a note to support@askslim.com requesting your special coupon code.