Alcoa (AA) plummeted 12% on Monday morning, after the US Treasury Department softened its aluminum sanctions.
Aluminum prices fell by 8%, after a the Treasury Department said it would reconsider its stance on sanctions affecting Rusal, if Oleg Deripaska relinquished control in the company.
"The US government is not targeting the hardworking people who depend on Rusal and its subsidiaries," explained Treasury Secretary Steve Mnuchin. Rusal is the world's second largest aluminum producer.
You may recall that AA shares jumped when the sanctions were announced, as they would effectively hobble a significant competitor. Today AA is giving back those gains.
The daily chart below shows an "island top." After this correction, the short-term cycles suggest a correction into late-May. While the minor cycles indicate that there may be a near-term bounce, the island top could mean that bounce will fail.
Alcoa (AA) Stock Chart with Daily Bars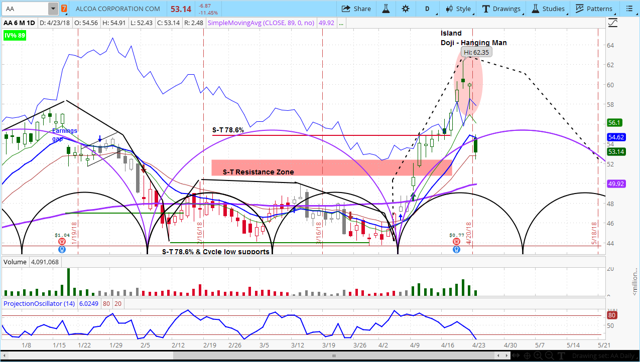 For an introduction to cycle analysis, check out our Stock Market Cycles video, or watch the askSlim Market Week show every Friday on our YouTube channel.
Powered by WPeMatico