Boeing (BA) traded 4% lower on Tuesday morning, on resurfacing concerns about a potential trade war between the US and China.
Yesterday evening, President Trump asked the Commerce Department to identify $200 billion in Chinese imports to be subjected to tariffs. Should a trade war come to pass, manufacturing companies such as Boeing could be amongst the biggest losers.
Looking at BA's market cycles on its weekly chart, the stock may have started the declining phase of its current market cycle. This would be relatively early given that it's only half way through the cycle. The cycles suggest a drop into support below $312 by August.
Making matters worse, BA is coming off a double top that could lead to more downside action. Projecting forward, our analysis is that it could reach as low as $260. For more on cycle analysis, check out the askSlim Market Week show every Friday on our YouTube channel.
The Boeing Company (BA) Stock Chart with Weekly Bars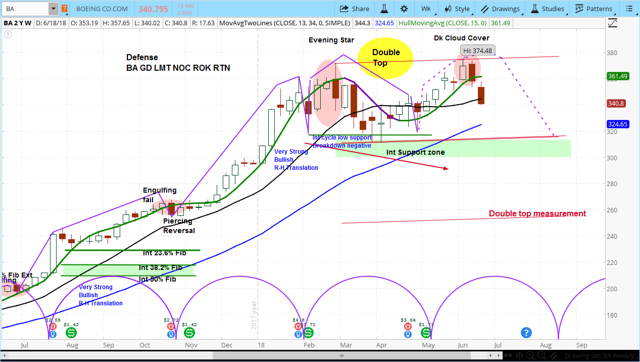 Powered by WPeMatico