S&P 500 (SPX) Chart with Daily Bars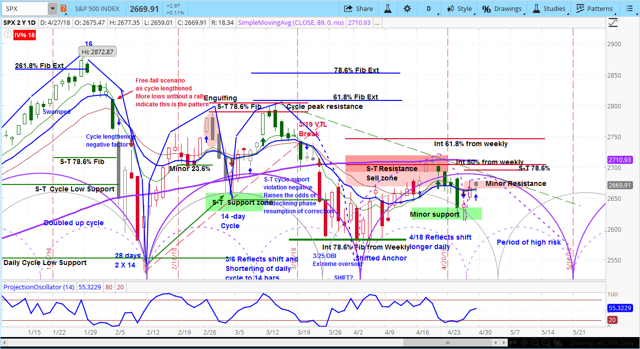 On Monday, aluminum prices fell by 8%, after the Treasury Department said it would reconsider its stance on sanctions affecting Rusal, the world's second largest aluminum producer. This would effectively increase aluminum supply. Also, Google (GOOG) reported earnings per share of $9.93 and revenue of $31 billion, compared to Wall Street estimates of $9.28 and $30 billion.
On Tuesday, the stock market fell, with the SPX down 1.3%. The NASDAQ (NDX) lost 2%, with Google down 4.5% and Facebook (FB) down 3.7%. Perhaps contributing to the selloff was the 10-year treasury yield reaching 3% for the first time since 2014. A moderating factor was data on new home sales and consumer confidence, both of which exceeded expectations.
On Wednesday, Crude Oil inventories came in at 2.170 million barrels, compared to expectations of -1.6 million. Facebook reported earnings per share of $1.69 and total revenue of $12 billion, compared to analyst expectations of $1.35 and $11.4 billion. The stock made back what it lost during the previous day's selloff.
On Thursday, the European Central Bank left interest rates unchanged, but during the press conference that followed Mario Draghi made comments that indicated he was cautious on slowing European economic growth. His view was affirmed the following day, with French and Spanish GDP figures missing economist estimates.
On Thursday evening, Amazon (AMZN) doubled analyst expectations, reporting earnings per share of $3.27, compared to estimates of $1.26. On Friday, the stock initially soared 6% but lost about half of that by the close. Also, US GDP growth came in at 2.3%, compared to estimates at 2.0%, and consumer confidence ticked a notch higher.
With equities flat last week, gold was down 0.9%, and oil was down 0.5%, the euro was down 1.3%, and bonds were down 0.04%.
Our Projection for the S&P 500 (SPX) This Week
Our approach to technical analysis uses market cycles to forecast price action. As described in the latest "Stock Index Cycle & Trend Momentum Report," our projection for the SPX in the first part of the coming week is for a continued rally into the 2678-2695 resistance zone.
This will be followed by a period of risk that will continue into the second half of May. As we explained in our Big Picture Analysis, we see the period from May to July as a period of high risk in the stock market because the declining phase of the current intermediate market cycle will conclude during that time.
To obtain the latest version of the Stock Index Report noted above, become a Level 1 member on www.askSlim.com. The membership and the report are free of cost. Click on the link below to check out the latest episode of the askSlim Market Week.
https://www.youtube.com/watch?v=CFOUpeetw6Q&t

Powered by WPeMatico