Its time for another askSlim.com extra, as the stock market took flight last Friday afternoon and followed through at the start of this week. The "missing" rally came big-time, about 2-3 days later than the prevously consistent patterns.
We had been believing, based on cycle analysis, that there was another drop coming in the stock market to complete this declining phase, and there would be a "V" bottom. Now a "W" bottom has formed. While it is still likely there will be another drop, the magnitude of this advance, with SPX gaining over 90 points in a matter of hours, is strongly suggestive that the intermediate decline has completed. We expect the Slim Ribbon to give a neutral signal (from negative) in the next day.
The chart below shows the adjusted cycle patterns and projections. Note the large blue cycle which now is in a rising phase. The analysis now is suggestive of a stalling in the resistance zone of 1989-99, with heavy major-trend resistance above those levels. Accordingly we believe the market will peak in the next several days, with the next minor corrective low due to bottom in the 10/13-10/16 window. That decline should come to support in SPX between 1941 & 1930.
(click to enlarge)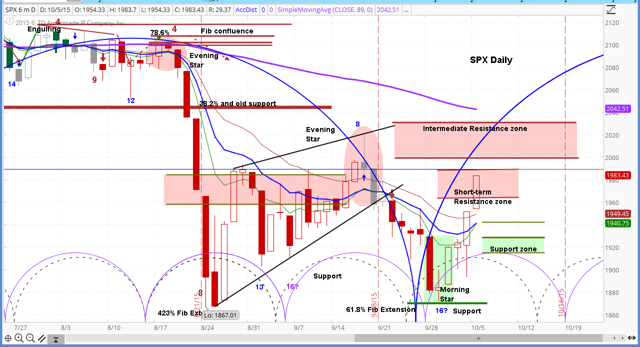 The major trend and long-term cycle analysis remains unchanged, as do momentum indicators, which are strongly negative. So this still appears to be just a big bounce within a major downtrend. There will be an updated "Big-Picture analysis" of the stock market recorded this week for members.
Not a member? Go to askslim.com and sign up!
Powered by WPeMatico