Home retailer Bed Bath and Beyond (BBBY) tanked by 18% on Thursday morning, after decent earnings. The company reported earnings per share of $1.48 and total revenue of $3.7 billion, compared to analyst expectations of $1.41 and $3.6 billion. While total sales were up compared to the previous quarter, comparable store sales dropped by 0.6%. For this year, management expects minimal sales improvement.
Upon reviewing the BBBY weekly chart, we can see that it is now concluding the declining phase of its current market cycle, as illustrated by the semicircles on the bottom. The consistent downtrend from one cycle to the next on this chart is notable. We expect a pop after the next cycle begins but lower prices are certainly possible after that. This one may be in the dog house for the foreseeable future.
Bed Bath and Beyond (BBBY) Stock Chart with Weekly Bars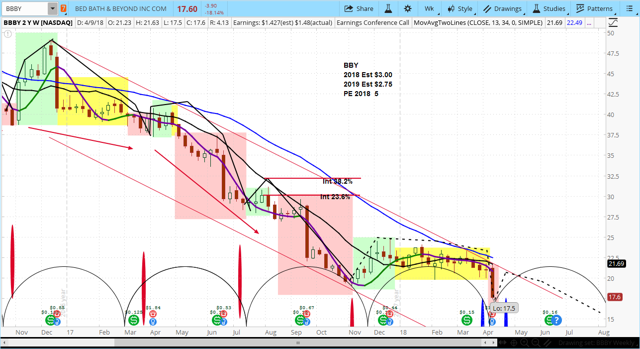 For an introduction to cycle analysis, check out our Stock Market Cycles video, or watch the askSlim Market Week show every Friday on our YouTube channel.

Powered by WPeMatico