Broadcom (AVGO) traded -3% lower on Friday morning, after reporting earnings that beat Wall Street expectations.
The company reported earnings per share of $4.88 and total revenue of $5.02 billion, compared to analyst expectations of $4.78 and $5 billion. Management offered guidance for revenue of $5.047 billion, which was below estimates of $5.06 billion.
Since its May 3rd low, the stock has run over 17%, perhaps due in part to optimism on the part of analysts. However, our our Option Bias Indicator showed it as "extreme overbought". Further, as can be seen on the weekly chart below, it was at resistance.
Also on the weekly chart, we can see that the stock is in the declining phase of its intermediate market cycle. As such, we believe there is further risk to the downside. Our short-term target $244. A final note the is the ominous head and shoulders pattern on the weekly chart.
Broadcom (AVGO) Stock Chart with Weekly and Daily Bars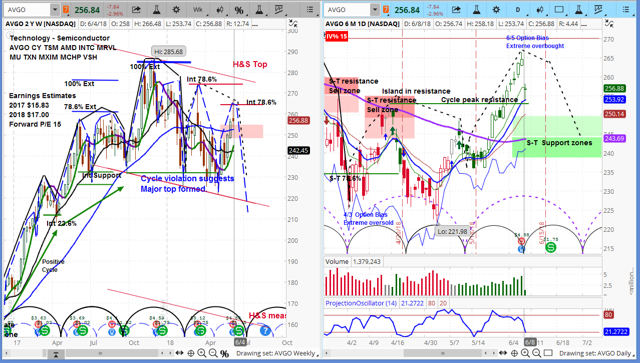 Powered by WPeMatico