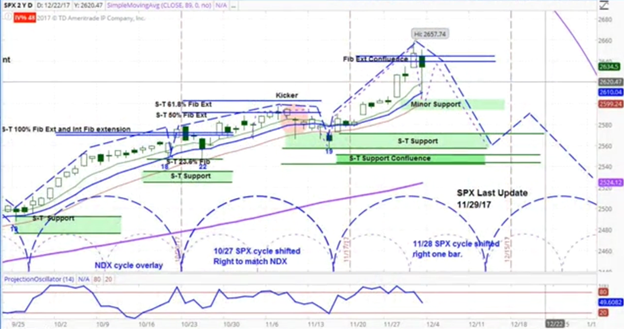 The stock market moved higher last week, with the S&P 500 (SPX) moving up 40 points to 2642.
On Monday, Chinese stocks continued their declines from the previous week, falling 1.3%. On Tuesday, North Korea fired an intercontinental ballistic missile that demonstrated it could hit any location in the United States. However, this had little impact on US equity markets.
On Tuesday and Wednesday, the SPDR S&P Retail ETF (XRT) rose 5.6%, as sales for "Cyber Monday" increased by 17% from the previous year, totaling a record-setting $6.5 billion. Also, the Senate confirmed Jerome Powell on Tuesday as the next Chair of the Federal Reserve Bank and the bond market fell the following day.
On Wednesday, the Commerce Department revised Q3 GDP growth from 3.0% to 3.3%. The NASDAQ (NDX) started the day higher but later fell by 111 points, or 1.7%. Also, Bitcoin broke through 10,000 and later 11,000 and promptly sank back below the 10,000 level.
On Thursday, Senator John McCain stated his intention to vote in favor of the Republican tax bill, which sent equity markets higher, as McCain has previously stated strong concerns. Also, OPEC extended its production cuts until the end of 2018, in their attempt to clear the global supply glut in the oil market. Crude oil futures (/CL) reacted minimally on Thursday but rose 1.5% the following day.
On Friday, Senate Majority Leader Mitch McConnell stated that he had enough votes to pass the tax cut legislation. However, equity markets sank, as former National Security Advisor Michael Flynn pleaded guilty to lying to the Federal Bureau of Investigations. Along with his agreement to cooperate with the investigation on Russia's involvement in the US election, this sent the S&P 500 (SPX) initially down to 2605, but later recovered most of its losses.
The SPX chart above shows our projection for the coming week: lower or choppy price action early in the week with downward pressure increasing as the short-term cycle ends. The blue-dotted half circles at the bottom of the chart illustrate the short-term cycle patterns. For a more detailed look at cycle analysis for a broader selection of futures contracts, watch the askSlim Market Week every Friday afternoon.
The latest askSlim Market Week: askSlim Market Week 12/01/17
Powered by WPeMatico