S&P 500 (SPX) Chart with Daily Bars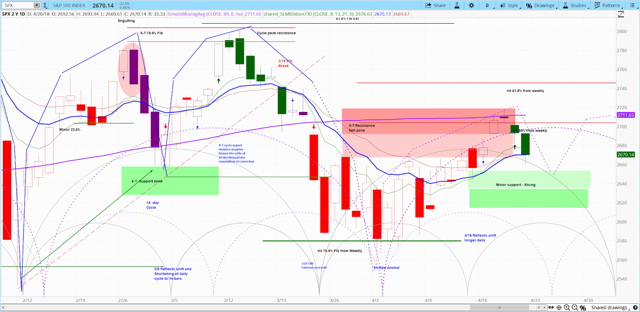 Over the weekend, the US led a joint bombing mission targeting Syrian chemical weapons facilities. On Monday, stocks rallied on relief that the intervention did not trigger a response, in particular from Russia who had warned about that possibility.
On Tuesday, Netflix (NFLX) reported in-line earnings and stronger than expected revenue and subscriber growth in the US and abroad, pushing the NASDAQ 2.1% higher. Chinese industrial production for March came in at 6.0%, compared to expectations of 6.4%; and US building permits came to 1.35 million versus estimates of 1.33 million.
On Wednesday, Goldman Sachs (GS) reported strong Q1 earnings at $6.95 versus $5.58 expected and revenue at $13.4 billion versus $8.7 billion. The Fed released its qualitative Beige Book, which indicated concerns about trade policy, notably that resulting higher prices were already affecting many businesses.
On Thursday, Apple (AAPL) fell by nearly 3%, after Taiwan Semiconductor (TSM) gave a weak revenue forecast for its June quarter, which investors imlied would affect iPhone 8 sales negatively. Also, the Philadelphia Fed released data for its April manufacturing index of 23.2, compared to estimates of 20.8.
On Friday, stocks were down, led by falling bonds and tech stocks. The jump in long-term yields actually brought some relief, as it may prove difficult for the Fed to continue to raise short-term rates without inverting the yield curve. As explained by Governor James Bullard, "I am getting concerned about the flattening yield curve, [which is] a powerful predictor of economic downturns."
With equities up last week, gold was down 0.77%, oil was up 1.32%, the euro was down 0.35%, and bonds were down 1.70%.
Our Projection for the S&P 500 This Week
Our approach to technical analysis uses market cycles to project price action. Our projection for the S&P 500 (SPX) in the coming week is for more downside price action, followed by a bounce that could possibly last into the following week. For an introduction to cycle analysis, check out our Stock Market Cycles video, or watch the askSlim Market Week show every Friday on YouTube. The latest episode is below.
Powered by WPeMatico