Cisco (CSCO) traded 4% lower on Thursday morning, after reporting in-line earnings.
The company reported earnings per share of $0.66 and total revenue of $12.46 billion, just above analyst expectations of $0.65 and $12.43 billion. Likewise, they provided guidance for next quarter of between of $0.68 and $0.70 for earnings, and $12.6 billion and $12.9 billion for revenue. This was in line with consensus estimates of $0.69 and $12.73 billion.
Investors may focusing today on services revenue, as Cisco is trying to transition customers to new network switching products that would bring in service revenue on an ongoing basis. However, services revenue came in at $3.16 billion, below analyst expectations of $3.22 billion. This miss may account for a portion of the today's decline.
In analyzing the market cycles on the CSCO weekly chart below, we believe the stock will continue to face selling pressure in the coming weeks as the declining phase of its current cycle comes to a close. Our projection is $40 by late June. If this plays out, it may result in a double top, which may not bode well for the stock's intermediate term future. For more on cycle analysis, check out our Stock Market Cycles video.
Cisco (CSCO) Stock Chart with Weekly Bars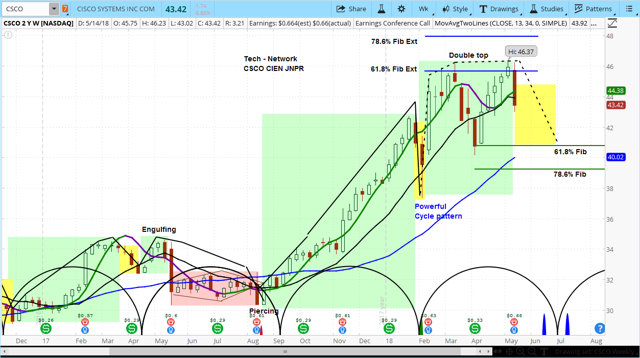 Powered by WPeMatico