Cisco (CSCO) rose as high as $45.43 in pre-market trading, an increase of 7.9%. The company reported earnings per share of $0.63 and total revenue of $11.89 billion, beating expectations of $0.59 and $11.81 billion respectively.
The company's performance was driven to an extent by sales in the infrastructure platforms category, which includes data centers, as well as guidance that exceeded analyst estimates. CSCO is on a tear, posting a gain 48% off it's low of $30.67 from six months ago. One has to return to the dot-com era to see it trading at its current levels.
Looking at the chart below, CSCO is clearly in a powerful cycle pattern, taking only a couple weeks off during the declining phase of its previous market cycle. Our near-term projection is $48. The market cycles on the chart below are designated by the black semicircles at the bottom of the chart.
CSCO Chart (Weekly Bars)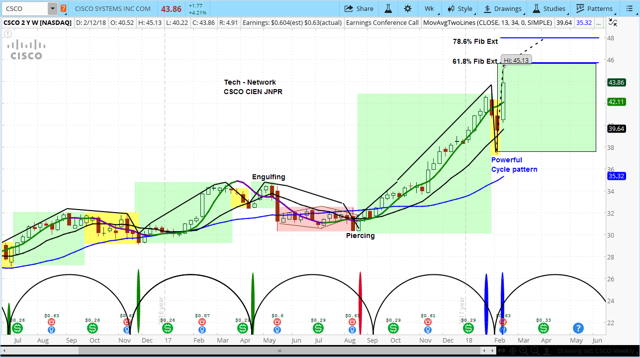 Visit our site for more on market cycles, watch the askSlim Market Week every Friday afternoon, or subscribe to our YouTube channel.
Powered by WPeMatico