3D Systems Corporation (DDD) jumped 10% on Thursday morning, after beating earnings estimates and boosting guidance. The 3D printing company reported earnings per share (EPS) of $0.05 and total revenue of $166 million, compared to estimates of $0.00 for EPS and $163.5 million for revenue.
We see potential for DDD to rise to $14, however the stock is expensive and struggles with profitability, despite today's results. In analyzing DDD's market cycles, there may be a better buying opportunity in May. The market cycles are designated by the semicircles at the bottom of the chart.
3D Systems (DDD) Stock Chart with Weekly Bars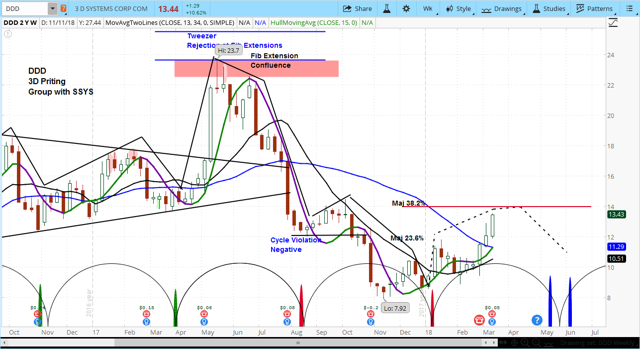 For an introduction to cycle analysis, check out a clip of our Big Picture Analysis on YouTube, or visit askSlim.com and become a free Level 1 member for the full version.
Powered by WPeMatico