Deere & Company (DE) traded 6% higher on Friday morning, after missing earnings and revenue expectations but raising guidance.
The company reported earnings per share of $3.14 and total revenue of $9.75 billion, which came in below analyst expectations of $3.30 and $9.84 billion. They cited higher than expected costs for freight and raw materials such as steel and aluminum. Cost of goods sold were 35% higher than the same quarter one year ago. Other companies, such as Caterpillar, have noted that trade tariffs have inflated input costs and could affect future profits.
Investors however may have been pleased when they learned that CEO Samuel Allen is committed to addressing their problems by cutting costs and raising prices before the end of the fiscal year. Together with improving demand, this enabled Deere to raise FY guidance for net income from $2.1 to $2.3 billion.
Our take on DE, in analyzing the chart below, is that the stock is in the rising phase of its current market cycle. Yet it shows a negatively configured cycle pattern may be forming a major top. We see a high chance of a failure in our resistance zone between $151-$160. We expect it to then resume on the downside into August. For an introduction to cycle analysis, watch our Stock Market Cycles video.
John Deer (DE) Stock Chart with Weekly Bars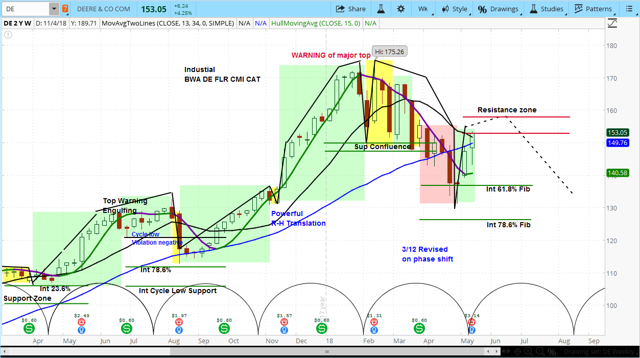 Powered by WPeMatico