Dillard's (DDS) opened today's trading session in spectacular fashion, popping 16% to over $82 on strong earnings.
DDS reported adjusted earnings per share of $2.82 and total revenue of $2.06 billion, compared to Wall Street expectations of $1.82 and $2.05 billion respectively. This was achieved by strong performance in same store sales of 3% as well as ladies, juniors, and children's apparel.
Our analysis of DDS market cycles, shows that the stock is currently near significant resistance. It may be over-extended. In fact, we expect a pullback into April, below $75, that could prove to be a buying opportunity. The market cycles are designated by the purple semicircles at the bottom of the chart.
Dillard's (DDS) Chart with Weekly Bars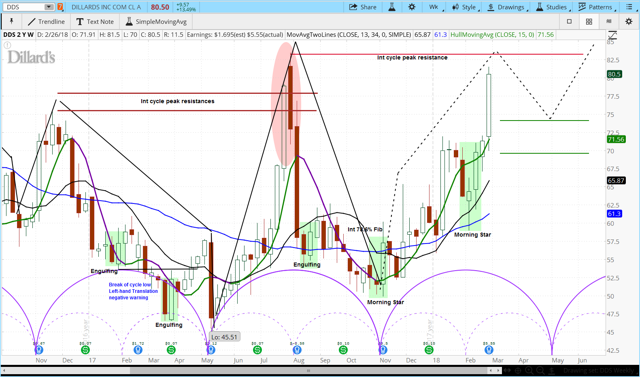 For a more detailed look at cycle analysis for a broader selection of futures, watch the askSlim Market Week every Friday afternoon, or subscribe to our YouTube channel.

Powered by WPeMatico