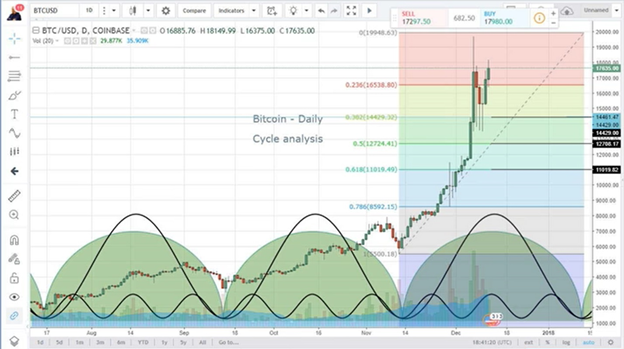 I have tried in the past to determine whether Bitcoin trades in market cycles. However, it proved too difficult to determine because the product is so volatile.
I define a market cycle as the length from one important low on a chart to the next one, and Bitcoin often had such extreme moves in one direction or the other that the lows got "swamped". That means the market cycle was still exerting its normal influence but that it was overwhelmed by momentum in one direction. Market cycles and momentum are often competing pressures.
Nonetheless, I have charted the cycles in Bitcoin over a 12-month period using daily bars and weekly bars. Pictured above is a chart with daily bars. We can see two distinct "intermediate cycles" lasting two months each. Each of these cycles contains three minor cycles, which creates a "harmonic family," in the parlance of cycle analysis.
We are almost half way through the third intermediate cycle on the chart above, which uses daily bars. I believe the current cycle has topped and we are due for a pullback to the 14,461 support level, which is represented by the 38% Fibonacci retracement.
I will check-in again on Bitcoin in January to see how the cycles pan out and try to determine what might come next. Check out my YouTube video for a more detailed analysis of Bitcoin market cycles, preceded by a segment for beginners.
Bitcoin cycle analysis: Slim gives you the skinny on Bitcoin market cycles – 12/14/17
For a more detailed look at cycle analysis on a selection of futures, watch the askSlim Market Week every Friday afternoon.
Powered by WPeMatico