Facebook (FB) shares are trading 6% lower on Monday morning, after reports that the company may have improperly handled a potential "breach" of user data. This event may further erode public trust in a company that depends on it.
The question is how Cambridge Analytica improperly acquired psychological profiles of 50 million users. Cambridge, who combines communications with data analysis, contracted with Donald Trump in his 2016 campaign for President.
Facebook apparently learned about the transfer of the data to Cambridge and asked them to delete it. However, Facebook did not inform users because they argued that it did not constitute a data breach. The bottom line is that this may lead to tighter regulations, as government officials from the US and Europe want the firm to provide a transparent explanation.
We have been bearish on FB, with the stock on our list of open short setups. FB is trading in the declining phase of the current intermediate market cycle. Our near-term target remains $164, based upon a Fibonacci support confluence. The market cycles are designated by the semicircles at the bottom of the chart.
Facebook (FB) Stock Chart with Weekly Bars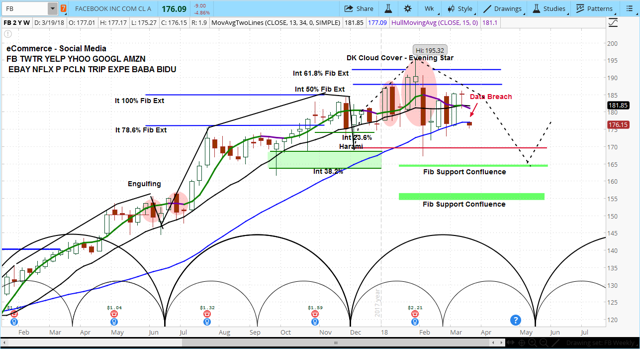 To learn more about market cycles, check out a clip of our Big Picture Analysis, or our forthcoming Cycle Analysis Workshop.
Powered by WPeMatico