hCrude Oil (/CL) Chart with Weekly Bars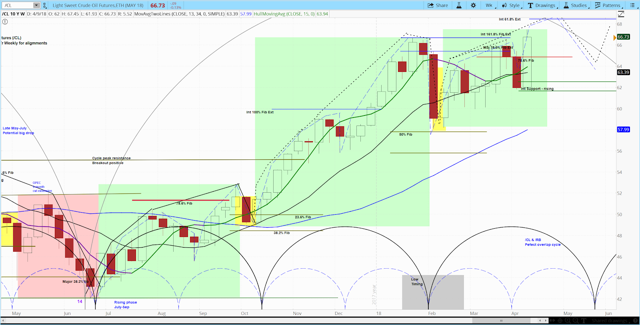 The price of crude oil exploded, as can be seen on the large, green bar on the right on the weekly chart above. Last week it appeared as if oil prices might decline further. President Trump proclaimed, "We're coming out of Syria, like, very soon," with the price of Crude Oil futures (/CL) settling around $62 on Friday.
However, over the weekend, images surfaced depicting Syrian civilians being treated for exposure to chemical weapons. The last time that happened, President Trump proclaimed that the attack went "beyond a red line" and launched 59 Tomahawk cruise missiles at Syrian military targets.
Trump promised a "forceful" response. However, Russia later clashed with the US at the United Nations Security Council over how to investigate the incident, and later vowed to shoot down any missiles launched at Syrian targets. Not surprisingly, Trump responded, "Get ready Russia, because they will be coming," referring to a fresh round of missiles. The rise in oil prices is not surprising, given that exchange, as well as the fact that OPEC production fell to 32.04 million barrels a day in March.
However, what the television pundits didn't tell you is that the price of crude may have been looking for a reason to increase, at least in the short term. We can see on the weekly chart above that crude recently entered into the rising phase of a new market cycle, and a similar occurrence on the daily chart below.
Crude Oil (/CL) Chart with Daily Bars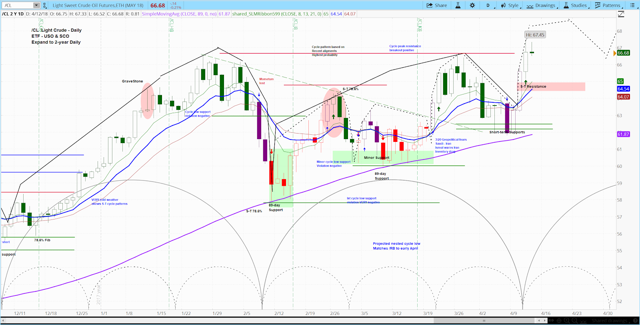 This certainly isn't to say that oil prices would have risen without the events that occurred. However, it may be that prices were ready to rise and may have extended further in the short term due to being aligned in the rising phases of market cycles in two time frames.
For more on how market cycles affect the price action in crude oil futures, check out my latest video in the "askSlim Special Presentation" series.
Crude oil explodes – what do market cycles tell us? 04/12/18
For an introduction to cycle analysis, check out our Stock Market Cycles video, or watch the askSlim Market Week show every Friday on our YouTube channel.
Powered by WPeMatico