Gold futures (/GC) dropped almost 2% on Tuesday morning, as the dollar index ($DXY) increased 0.75%. Gold broke below $1300 to $1291 per ounce before a small bounce.
The dollar rose as interest rates increased, with the yield on the 10-year note reaching as high as 3.065% before falling off. Rates increased after the release of the latest retail sales data, which came in at 0.3% month over month growth for April, below analyst estimates of 0.4%, which is still considered strong. Retail sales for March were revised to 0.8% from 0.6%.
Looking at the chart below, we can see gold falling as the declining phase of its current market cycle comes to a close. The cycles are represented by semicircles in the chart below and are grouped into a large "harmonic family," or group of cycles.
Gold Futures (GC) Chart with Daily Bars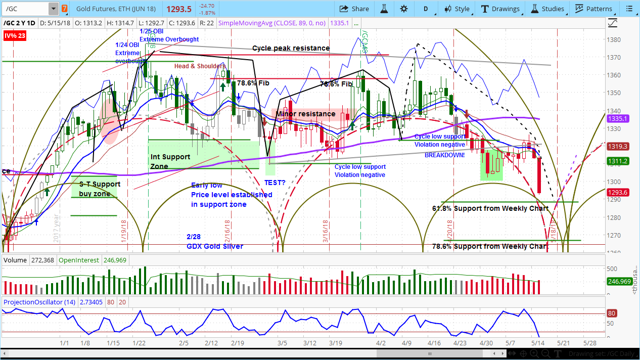 Our analysis indicates that this is a capitulation stage, meaning that as the cycle "nest" together, risk increases to the downside, with investors sell emotionally and weak holders get washed out. Our support level was $1302 and the next level is $1288. We believe an important low is pending.
Check out the latest episode of FutureSpeak below, in which we analyze the cycles for gold and 22 other futures contracts.
FutureSpeak – askSlim Special Presentation 05/13/18
Powered by WPeMatico