IBM traded 7% lower on Wednesday morning, after beating Wall Street consensus for earnings and revenue but missing on guidance.
IBM reported earnings per share of $2.45 and total revenue of $19.1 billion, compared to analyst expectations of $2.42 and $18.8 billion. However, the company reaffirmed its guidance for the year at $13.80, which was below expectations of $13.83.
Can IBM go lower? This is where cycle analysis is useful. In looking at the charts below, we can see that on each one, this stock is in or nearing the declining phase of the respective market cycles on each chart. This suggests additional risk to the downside. Our price target is $144.
IBM Stock Chart with Weekly and Daily Bars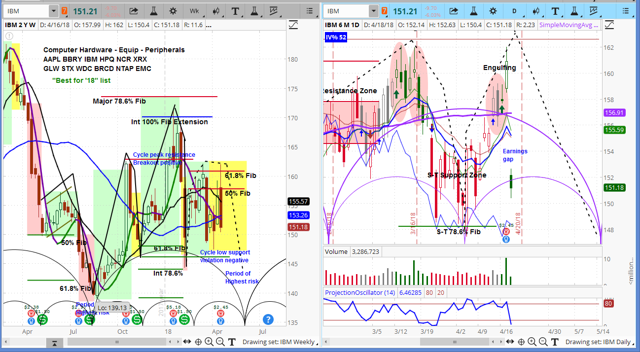 For an introduction to cycle analysis, check out our Stock Market Cycles video, or watch the askSlim Market Week show every Friday on our YouTube channel.

Powered by WPeMatico