The euro fell as low as 1.3% to near the 1.15 level on Tuesday morning before bouncing off the low. Over the weekend, Italian President Sergio Mattarella appointed a former-IMF economist as interim prime minister.
The catalyst was the populist parties Five Star and the League having united after gaining a foothold in the March 2018 elections. Their platform contained numerous provisions designed to challenge the status quo, including potentially, weakening Italian membership in the European Union.
Now the eurozone's third largest economy will hold new elections in fall of 2018. The question to consider is whether these elections will strengthen or weaken Italian populist forces.
In that context, equities were down across the board, with the Stoxx Europe 600 down 1.2% and the Italian FTSE MIB down 2.1%. Stocks were also down in Asia and the US, with the S&P 500 down 0.5%.
In reviewing the weekly chart of the euro futures below, we can see that the euro is clearly in the declining phase of its current market cycle. Today it broke the low at which is started its current intermediate cycle. The next stop is the 50% Fibonacci retracement and after that the 68%, which is around the 1.12 level.
From our perspective, both of these levels are in play by mid-June when the cycle ends. For an introduction to cycle analysis, check out our Stock Market Cycles video.
Euro Futures (6E) Chart with Weekly Bars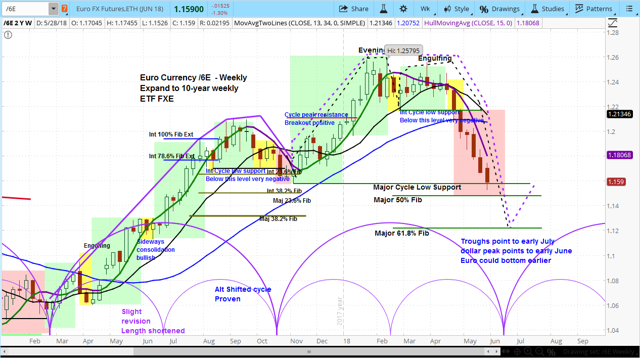 Powered by WPeMatico