KB Home (KBH) was trading 6% higher on Friday morning after beating earnings expectations for Q4 2017.
The company reported earnings per share of $0.40 and total revenue of $871 million, compared to analyst expectations of $0.30 and $$887 million. The earnings from the quarter one year ago were $0.15, which is an increase of nearly threefold. While missing expectations, quarterly revenue was 6% higher compared to one year ago.
Looking at the chart below, we use market cycles to project price action. Our analysis suggests that this upward bump may be premature, as the declining phase of the current market cycle will last until May of this year. Our price target is near $28.
KB Home (KBH) Stock Chart with Weekly Bars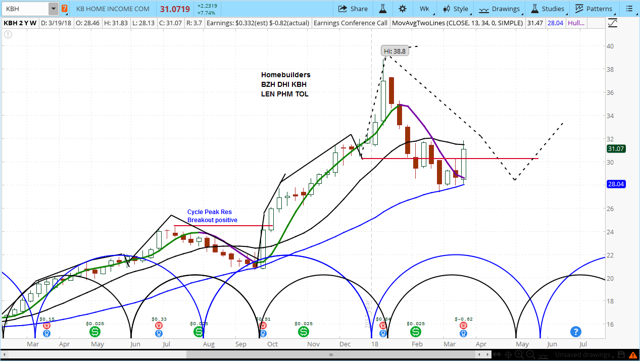 For an introduction to cycle analysis, check out our Stock Market Cycles video below, or watch our weekly askSlim Market Week show on our YouTube channel.
Powered by WPeMatico