Michael Kors (KORS) traded -13% lower on Wednesday morning, after reporting a decent quarter. However, operating margins were lower but for the most part it appears the market was just looking for more.
The company reported earnings per share of $0.63 and total revenue of $1.18 billion, above to analyst expectations of $0.60 and $1.15 billion. It also reported that comparable sales increased by +2.3%, which exceeded analyst estimates of a -1.3% decrease.
KORS forecast earnings guidance for FY 2019 of between $4.65 to $4.75, compared to the average estimate of $4.74. While the average is within its range, it's on the high end. Further, operating income increased only 2% to $152 million, and its operating margin decreased from 14.2% to 13.1%, seemingly the reason investors were very disappointed.
With KORS having gained 88% over the last year, we believed a top was forming. It now appears to be a "Major M Top". In analyzing market cycles on the chart below, our view is for an interim low in a couple weeks. After that, a bounce could be an opportunity to sell. For an introduction to cycle analysis, check out our Stock Market Cycles video.
Michael Kors (KORS) Stock Chart with Weekly Bars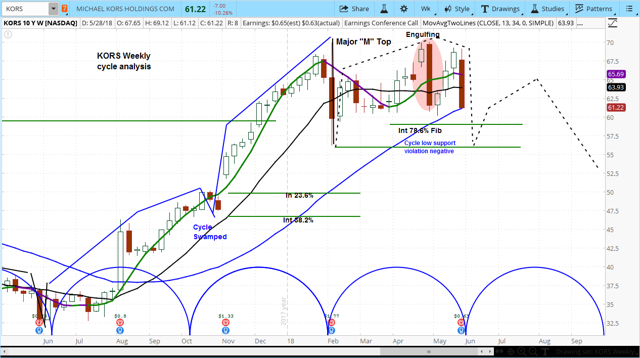 Powered by WPeMatico