askSlim Level 3 – RAISE

Recurring Subscription


$285.00 / 3-months OR $119 / month
Membership Level 3 – Features
The Slimulator Rankings System has been developed as a trade planning tool designed to support investors, swing traders and option traders. It has been programmed with our proprietary cycle and momentum analytical work for 84 of the best traded stocks, ETFs and Futures. Our focus was to include the best stocks and ETFs from each major group with the largest option volume. The analysis is displayed in three time frames: long-term momentum (primarily monthly chart analysis), Intermediate momentum and cycle analysis (primarily weekly chart analysis), short-term (daily and 2-hr chart analysis), plus our OBI (Option Bias Indicator – which reflects a combination of I-T and S-T momentum studies along with studies tracking overbought and oversold levels).
The Slimulator Rankings System displays a "Sum of the Technical Evidence" output with a suggested directional bias and market condition for each symbol that is algorithmically generated by smartly combining our four technical evidence components into a single directional bias and outlook approximately for the next 3-6 weeks – which should be very helpful for swing and option traders.
View the askSlim Annotated Daily and Weekly Charts for 84 of the best traded stocks, ETFs and Futures with the Slimulator Rankings System!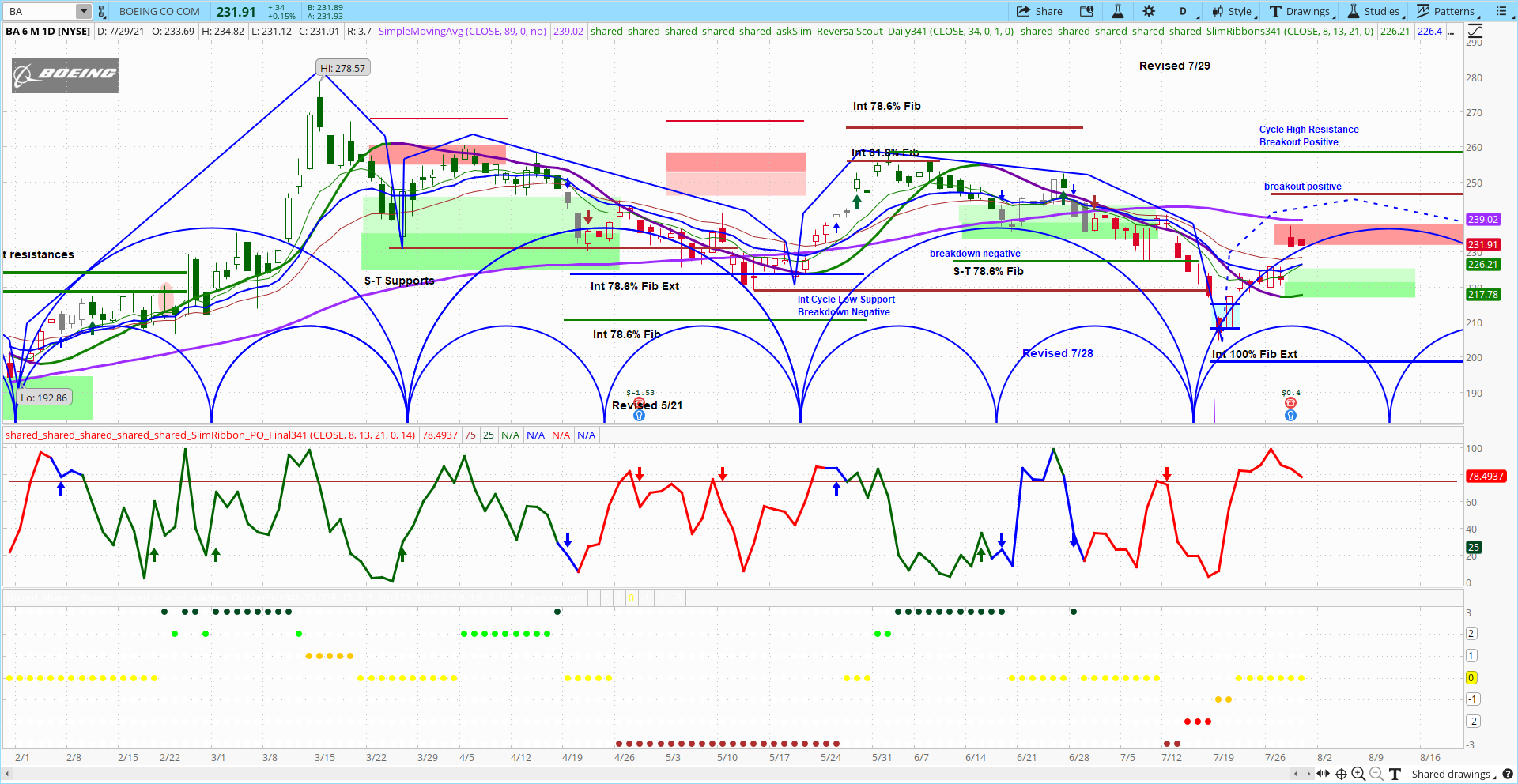 Furthermore built into the Slimulator Rankings System you will have access to Slim's annotated static charts with our cycle analysis and projections available for each symbol! NOTE: The daily charts are reviewed, updated and uploaded typically each trading day by 9 PM CST. Weekly charts will be reviewed each trading day, however updates and new uploads will continue to occur once a week, typically Wednesday evenings or when significant changes occur. Please note that level 4 members receive our annotated charts that can be opened live on their TOS platform which include any interim updates.
The askSlim "Trade Ideas" service is designed to support your trade planning. We believe trade planning should be an important step in a traders' process. For this reason, accompanying each "Trade Idea" will be a template containing many of the essential components of a trade plan. Each "Trade Idea" will highlight favorable entry ranges, target zones, and suggested areas the idea will likely need re-evaluation. See the example below…

Delivery and Frequency:  We intend to deliver one "Trade Idea" developed from our askSlim analytical process by 8 PM CST each trading day depending on market conditions. Level 4 members will have access to both the static chart and the TOS chart grid link. We will send a notification when new "Trade Ideas" have been posted.
Follow-up: When a "Trade Idea" is posted it will be indicated as "Active." When a "Trade Idea" reaches a target zone, moves away from the favorable entry range, or violates the re-evaluation level the "Trade Idea" will be updated as "Inactive" and a notification will be sent out.
Trade management: The actual entry, exit and strategic approaches, are always left to the individual trader – as ownership of trades greatly improves learning and long-term success in trading.
***As per all of our content, "Trade Ideas" should not be taken as "trade recommendations or trading advice."The askSlim team cannot answer questions about individual trades or positions or give trade or investing advice of any kind. All responses are for educational purposes only.
• askSlim ChartStreams:
askSlim ChartStreams are meant to be used as part of your overall trade planning toolbox. The custom askSlim chart grid and indicators are designed to give you an efficient way to capture a snapshot of key technical insights at any moment of the trading day. You can select from eleven ChartStream channels featuring 1) Intraday Grid for the stock indexes, 2) S&P 500, 3) Nasdaq 100, 4) Russell 2000, 5) SPY (SPDR S&P 500 ETF), 6) QQQ (Nasdaq-100 ETF), 7) IWM ( Russell – 2000 ETF), 8) GLD (Gold ETF), SLV (Silver ETF), TLT (View our suite of custom indicators at multiple timeframes to assist with determining directional bias based on our most reliable momentum indicators, catch changes in directional bias, monitor for extreme conditions, momentum divergences, identify favorable trade set-up conditions and see our indicated key support, resistance and projected target zone price levels. ChartStreams will be streaming throughout the regular market session hours. See examples below.

---
askSlim Cycle Low Timing Service

– Get alerted in advance of periods of likely downside risk!

– Get alerted when bottoms are forming, and continued advances are likely!

---

The askSlim Futures Hub and

 Index, Equities, and ETFs Hub

– Access the askSlim Weekly and Daily Cycle Analysis on our complete Focus List of Major Markets, Futures, Stocks, ETFs and Crypto.
– See at a glance vital technical conditions regarding timing, key levels, and momentum.
– Experience a more convenient trade planning process. The new Futures Hub brings our core analysis together all in one place – Charts, Videos, and Key Technical Details.
PLUS
Get access to the highly acclaimed Stock Index Report "SIR" Daily Snapshot and Intraday Live ChartStream:
The SIR Daily Snapshot is designed for short-term index swing traders and intraday traders looking for daily technical insights into the S&P 500 (SPY), Nasdaq 100 (QQQ), and Russell 2000 (IWM) stock market indexes. The SIR Daily Snapshot includes:
More than 10 proprietary charts are featured in the SIR Daily Snapshot report each day! 

the overall directional bias

trend & momentum conditions

key support/resistance levels

anticipated breakout/breakdown, acceleration and continuation zones  

The SIR Daily Snapshot will be conveniently delivered to your email inbox Pre-Market each trading day**
You also get

access to Slim's ever-growing 500+ video library including…
FutureSpeak: Slim is well known for his weekly analysis of the futures markets. In this review, he looks at the cycle analysis and important indications of trend and market condition, along with key support and resistance areas in 6 key segments of the futures markets. This is a review of 24 different futures contracts each week.
Trader Psychology: Slim believes trading success comes from a holistic approach to trading. Watch as he delves into how our life's history and associated emotions can contaminate trading decisions. Slim offers insights on important subjects, answers viewer emails on psychological issues and gives tips on working through personal issues that may create obstacles to our success.
Tools for Techs: Slim uses technical analysis as he approaches his trading, studying and developing his own version of "Cycle Analysis." Watch as he goes through many of the studies on the thinkorswim platform and shows how he creates visuals that help us understand the actions in the financial markets. Learn about candlesticks, moving averages, trend lines, channels, oscillators, support/resistance, Fibonacci, cycle placement and a ton more.
Short-term View: Slim shares his in-depth short-term analysis of five major markets; Oil, Euro, Gold, Bonds and Stock market. And he is always accountable for what he said the previous week.
MarketWeek & FutureSpeak "minutes": These conveniently organized products include extracted insights from the each video along with links to the exact moment in the videos where Slim starts his analysis on each symbol or major market!
AND
Get everything in Levels 1 & 2!!
**The SIR Daily Snapshot will be published daily and delivered pre-market to your email inbox on trading days when the stock market is open during 48 weeks of the year. askSlim members will be made aware at least two weeks in advance of the non-daily publishing periods.