Netflix (NFLX) was trading 7% higher on Tuesday morning, after flat earnings and better than expected growth in subscribers.
Netflix reported earnings per share of $0.64 and total revenue of $3.7 billion, compared to analyst expectations of $0.64 and $3.69 billion. However, the company added nearly 2 million US subscribers and 5.46 million internationally, compared to 1.45 million and 4.98 million.
We previously noted the positive technical patterns on the stock chart, highlighting the early cycle low, which is a bullish occurrence. We thought it might be tested, but in fact it was not. The stock may now move into a resistance zone defined by the rare 423.6% extensions.
Netflix (NFLX) Stock Chart with Weekly Bars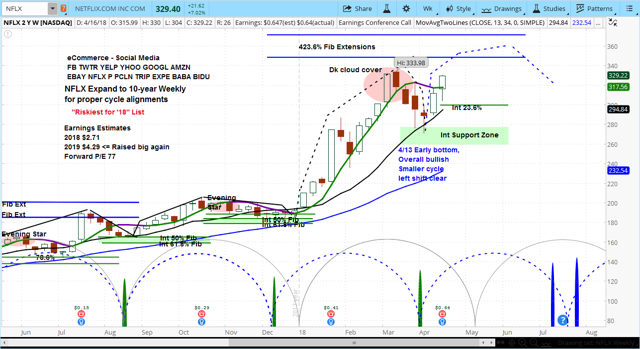 For an introduction to cycle analysis, check out our Stock Market Cycles video, or watch the askSlim Market Week show every Friday on our YouTube channel.

Powered by WPeMatico