Oracle (ORCL) is trading 9% lower on Tuesday morning. The company reported earnings per share of $0.83 and total revenue of $9.77 billion, compared to analyst expectations of $0.72 and $9.78 billion.
However, the outlook for the remainder of the year was below expectations, as was revenue related to its cloud services line. Also, the company took a $6.9 billion charge related to the recent tax reform measure.
ORCL turned negative at the end of last year and then managed a double top, as shown on the chart below. Our cycle analysis suggests lower prices into June, with possible targets at $44 then $41. The market cycles are designated by the semicircles at the bottom of the chart.
Oracle (ORCL) Stock Chart with Weekly Bars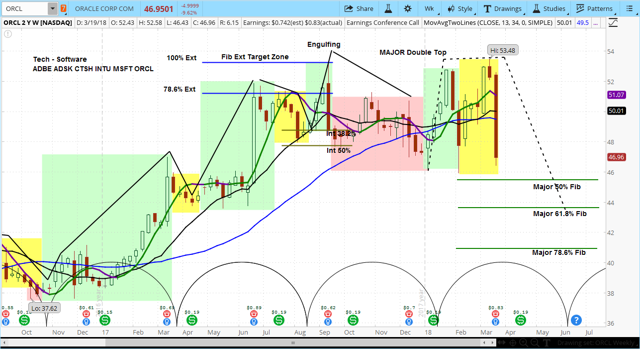 For an introduction to cycle analysis, check out a clip of our Big Picture Analysis, or visit askSlim.com and become a free Level 1 member for the full version.
Powered by WPeMatico