Brazilian state-led oil company Petróleo Brasileiro traded 13% lower on Thursday morning, after the company temporarily lowered diesel prices by 10% late on Wednesday.
Petrobras CEO Pedro Parente called the cuts "an exceptional measure," noting that they would remain in place for only 15 days. The decision, which is estimated to cost $96 million, may have been made in part to ensure delivery of this year's crop of soybeans. Policymakers are working on crafting a stable agreement with officials from the Brazilian Association of Truck Drivers.
The cuts follow as many as 300,000 truck drivers protesting the high fuel prices since Monday of this week. The drivers complained that fuel prices had increased 16% in the last 12 months. They protested in 17 provinces, sometimes setting up blockades on highways. Fuel costs represent 42% of the operating costs for the average Brazilian truck driver.
Looking at the PBR chart below, our analysis is that the price has broken but is still hovering around the low set at the beginning of its current market cycle. Once this happens, there is a risk that the stock will continue to fall for the remainder of the cycle. As such, our target is near $12 by sometime in August. For an introduction to cycle analysis, check out our Stock Market Cycles video.
Pabst Blue Ribbon (PBR) Stock Chart with Weekly Bars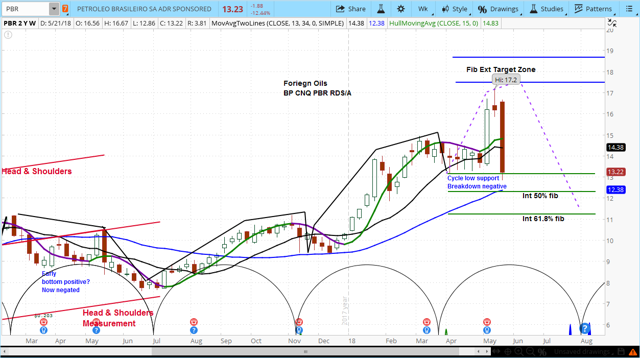 Powered by WPeMatico