Square (SQ) was trading 5% higher on Wednesday morning, after equities analyst Nomura described it as "like Amazon in its early days." As well, a survey found strong interest amongst merchants in its proposed bitcoin-related services. This would imply a willingness to accept bitcoin as a increasingly popular payment option.
However, if Square's fortunes rest on Bitcoin, there is significant risk. Our analysis of the market cycles on the SQ weekly chart suggest a pullback to $48, as the stock enters the declining phase of its current cycle. The cycles are designated by the semicircles at the bottom of the chart.
Square (SQ) Stock Chart with Weekly Bars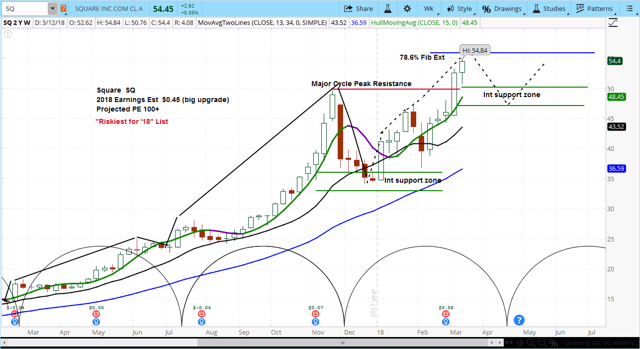 For an introduction to cycle analysis, check out a clip of our Big Picture Analysis, or visit askSlim.com and become a free Level 1 member for the full version.
Powered by WPeMatico