S&P 500 (SPX) Daily Chart from our Stock Index Report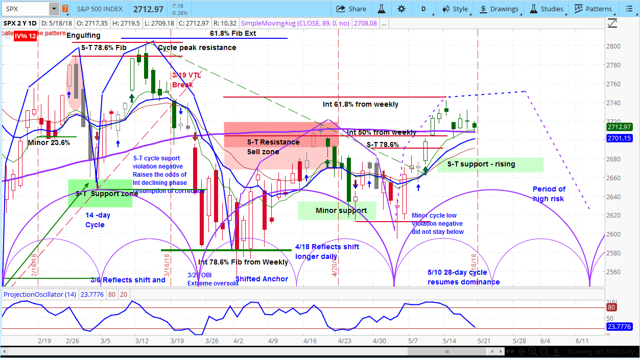 On Monday, the S&P 500 rose 2 points, up for the eighth consecutive day, as trade tensions between the US and China appeared to ease. Speculation on this matter began after President Donald Trump tweeted that he would consider easing sanctions on Chinese phone maker ZTE, as they buy "a big percentage of individual parts from US companies."
On Tuesday, stocks fell 19 points, or 0.7%, after a weak retail sales report. The government reported 0.3% month over month growth for April, which was below analyst estimates of 0.4%. Meanwhile, retail sales for March were revised to 0.8% from 0.6%. In addition, yields on the 10 year treasury note rose to 3.11%, the dollar index rose to as high as 93.34, and gold fell below 1300 to 1289.
On Wednesday, the S&P 500 rose 11 points, while the Russell 2000 (RUT) index gained 16 points, making a new all time high of 1616. Our readers know that we've been bearish on stocks in the intermediate term, however, we took note when the Russell made new highs. Will this result in a change in tone for the overall market? Interestingly, the RUT went on to make all time highs on the following two days.
On Thursday, Italian populists were in the news again, after making headway in forming a new government. The leaders of the populist Five Star Movement and anti-immigrant League agreed on Contract for a Government of Change. It appears they may seek to change the nature of Italy's relationship with the European Union, which led the euro to continue its multi-day tumble. It was a quiet day for stocks in the US, with the S&P 500 falling 2 points.
On Friday, stocks were down 8 points. This occured after senior US officials announced that China had agreed to lift trade barriers that would result in a $200 billion increase in imports from the US. However, China later cast doubt on such an agreement, with a senior official stating that "to (his) knowledge" there was no such deal.
With equities down last week, gold was down 2%, oil was up 1%, the euro was down 1.5%, and 10 year notes were down 0.5%.
This Week in Stocks
Our approach to technical analysis uses market cycles to project price action. According to the askSlim Stock Index Report, our analysis of the S&P 500 is for a decline to around 2680 early in the week and then rise back to its previous levels. Overall, we see a roughly unchanged week.
However, it is in the following week is where we see the most risk, once the declining phase of the current market cycle sets in. Note that at the chart above, the purple semicircles on the bottom represent the market cycles. In our recent Big Picture Analysis, we argued that a period of risk was approaching in the period of May to July 2018.
We did not however expect the Russell to make all time highs during this time. Our analysis that we are entering a period of risk still holds, however we have raised our downside objective for the next phase of the correction. For our analysis on additional products, including the five major markets, watch the askSlim Market Week show every Friday on YouTube.
The latest askSlim Market Week
Powered by WPeMatico