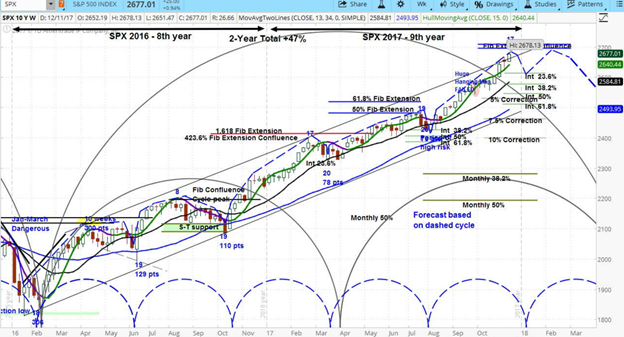 The stock market moved higher last week, with the S&P 500 (SPX) moving up 28 points to 2683, a new record high.
On Monday morning, a suicide attacker detonated a pipe bomb in a New York City subway. The markets dipped initially but recovered during regular trading hours. Apple (AAPL) later confirmed that it had purchased British app development company Shazam for $400 million. Their products enable users to identify various types of media using short audio clips.
On Tuesday evening, Democrat Doug Jones defeated Republican Roy Moore in the Alabama special election to fill the Senate seat vacated by Attorney General Jeff Sessions. The markets initially dipped but then recovered and moved even higher on Wednesday as core inflation came in lighter than expected at 1.7%. The Federal Reserve later raised its benchmark interest rate from 1.25% to 1.5%.
On Thursday, the Department of Labor announced that retail sales rose 0.8% in November and that weekly claims for state unemployment benefits dipped. However, markets moved lower after Macro Rubio threatened to vote against the Republican tax plan. On Friday, the market pushed to new all-time highs after Republicans indicated that they would address Rubio's concerns related to the child tax credit.
The SPX chart above covers a two-year timeframe using weekly bars. If you haven't yet seen our show "askSlim Market Week," then this week's episode is a good one to start with as the analysis goes a bit deeper. See below for more information. As we will take some time off for the holidays, this week's projection is for a longer period.
We expect a modest move lower into the beginning of January for the SPX. Looking at the chart, you can see the dips, which correspond with the blue dashed half circles at the bottom. These intermediate market cycles usually last 19 or 20 weeks. As we are at week 17 in the current cycle, the forthcoming dip will likely be modest.
For a more detailed look at cycle analysis for a broader selection of futures, watch the askSlim Market Week every Friday afternoon.
The latest askSlim Market Week: askSlim Market Week 12/15/17
Powered by WPeMatico