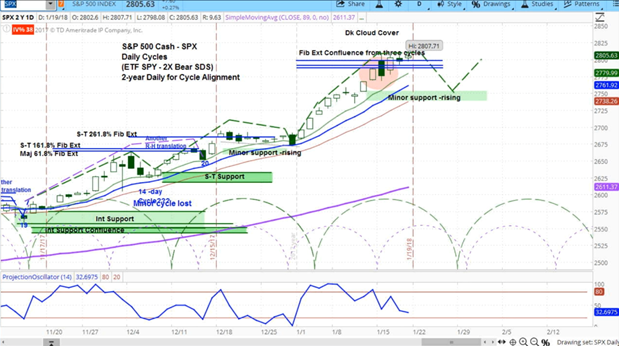 The stock market moved higher last week, with the S&P 500 (SPX) up 24 points to 2810, another all-time high.
On Monday, the euro rose versus the dollar on reports of Angela Merkel's progress in forming a coalition government between the Christian Democrats and the Social Democratic Party. This is part of a broader trend of weakness in the US dollar.
On Tuesday, Bitcoin dropped 20% on concerns of Chinese and South Korean regulatory risk. Likewise, one of China's largest credit rating agencies downgraded US government debt from A- to BBB+, noting the government's increased reliance on debt. US bond futures later fell by a full point.
Further, Deutsche Bank opined that a $1 trillion increase in the supply of US treasuries in 2018 could push interest rates higher and equities prices lower. After an early morning rally, the S&P 500 reversed by 35 points, sinking for most of the day.
On Wednesday, Apple ticked up by nearly $3, after it made news saying it would invest $350 million in the US economy over 5 years. At the same time, Bitcoin continued its move lower, dropping to nearly 9,000 and then recovering to close the day over 11,000.
On Thursday, the Labor Department announced that jobless claims had dropped to 220,000, which is a 45-year low. Also, the House of Representatives passed a continuing resolution to keep the government funded. Yet the Senate was unable to pass such a similar measure, leading to a government shutdown.
The daily chart above shows our projection for the S&P 500 (SPX) in the coming week: a decline to the rising minor support zone starting at 2753, as the current cycle corrects. The green-dotted half circles represent the short-term market cycles.
For a more detailed look at cycle analysis for a broader selection of futures, watch the askSlim Market Week every Friday afternoon.
The latest askSlim Market Week: askSlim Market Week 01/19/18
Powered by WPeMatico