The stock market was choppy again last week, with major indexes mixed. The S&P 500 closing 8 points lower, after making an all-time high just below 2404.
Apple (AAPL) jumped 4.8%, to $156.10, and continued to give support to the NASDAQ following Warren Buffett's announcement last Monday that he had more than doubled his stake in the company. This may have been a factor into the VIX trading down to 9.56 on Tuesday, the lowest volatility reading since 1993. Our analysis suggests a large rise in volatility not too far off.
President Trump shocked many in Washington when he fired the FBI Director Jim Comey on Wednesday. However, the markets took the news is stride, with the S&P 500 trading higher. On Thursday, Macy's missed on earnings, taking a 13% hit, which also pushed down the broader retail sector. Yet news that oil distillate inventories fell pushed up not only energy markets but also equities.
For the coming week, our projection is for the S&P 500 to trade higher, after a possible small dip early on. This projected favorable period is due to the start of a new rising phase in the short-term market cycle for the S&P 500, signified by the gray semi-circles and projections in the chart below.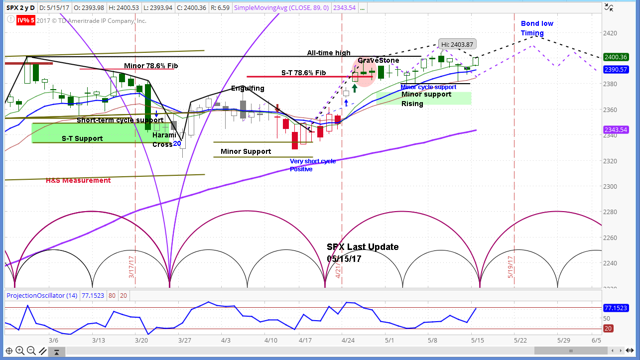 Help may come for the stock market as Russia and the Saudis agreed to a nine-month production cut for crude oil, lifting prices sharply on Monday. The pledge jumps ahead of the coming OPEC meeting on May 25th. Also helping markets, including the metals and minors, is a renewed promise out of China for a $100 billion infrastructure expansion.
As you can see in our chart, our projection for the end of the current market rally coincides with our analysis of a bond market low, which often trades inversely to the stock market.
Watch the askSlim Market Week for more information on market cycles as well as my short-term view for the coming week.
Powered by WPeMatico