Tesla Motors (TSLA) traded 5% higher on Wednesday morning, after shareholders rejected a campaign to shake up the 9-member board of directors – without Elon Musk as Chairman.
Pension advisory firm CtW Investment Group led a campaign to strip Musk of his long-held title of Chairman. The other component of the campaign was not to re-elect three directors allied with Musk: his brother Kimbal Musk, investor Antonio Gracias, and FOX CEO James Murdoch.
The company reported that these measures failed by "a wide margin". Nonetheless, shareholders did not resolve long standing problems related to a heavy debt load, consistent losses, and the company's inability to meet its own production targets.
They did take some steps in the right direction. Musk proclaimed that by the end of June the company would be able to produce 5000 Model 3 cars per week. "This is the most excruciating, hellish last several months I have ever had," said Musk, optimistically adding that, "I think we will get there."
Looking at the TSLA chart below, the first thing to note is that the stock previously broke the low at which it started the intermediate cycle, which is bearish. As well, it is approaching the latter stages of this intermediate cycle, which tends to produce downward pressure. Likewise, the stock is currently trading in a resistance zone made up of Fibonacci confluences. Despite today's move, our target remains $220.
Tesla Motors (TSLA) Stock Chart with Weekly Bars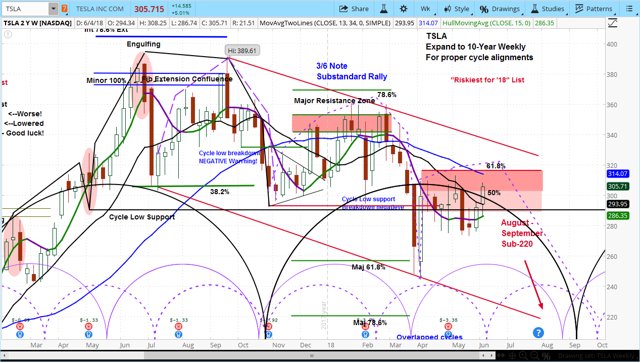 Powered by WPeMatico