The stock market was mostly choppy last week, with the S&P 500 closing 15 points higher, or about 0.6%. Background news caused some ripples, in what was a very narrow range for the week. The market dipped when President Trump said he would break up the big banks, recovered, but fell later in the week in response to a dramatic dip in crude oil and other commodities. An end-of-the-week boost came on strong payroll numbers and anticipation that centrist, Macron, would win the French election. The S&P 500 ended the week at 2399.29, a record close and just below its intraday record of 2400.98 on March 1, 2017.
Commodities fell hard last week partly in response to the Chinese government's attempt to curb some of the excesses of its shadow banking system. This could lead to fewer new construction projects and a still slower Chinese economy. Since construction tends to drive demand for commodities, this could be a feasible explanation for their price drop. Another big issue, as reported by Zero Hedge, much of China's debt is collateralized by commodities. With prices getting crushed, this could become a very big problem, for China and the rest of the world.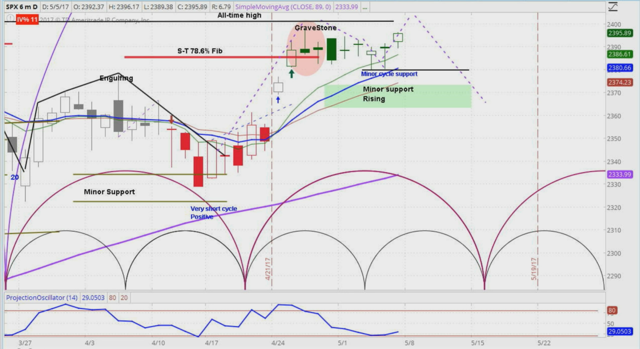 Our work suggests the S&P 500 may rise early in the week but that this will be met by selling later in the week as the index contends with downward pressure from its intermediate cycle (the large semi-circle in the chart above). Should it break through the minor support zone (depicted in green), the selling could intensify.
Watch the askSlim Market Week for a review on what happened in the markets this week and my short-term view for the coming week.
Powered by WPeMatico