The following is our analysis of the stock market indexes. Included below is our weekly and daily charts, with cycle analysis, projections and annotations, and for TOS users, a chart grid that for uploading to your system
This posting is an example of a potential askSlim.com product in which we would share our analysis of stock indexes. It may also include the NDX, RUT, DJI, DJT or other indexes.
Please comment as to its usefulness.
The stock market rallied strongly last week, with the S&P 500 moving to a new high, above the old peak made just two weeks before. There is resistance on the weekly chart, based on Fibonacci projections right around this week's close. Also, on the daily chart, there is a Fib confluence area between 2424 and 2430. We see this as a thick area of resistance, with a likelihood that it will stop a further significant advance in the stock market.
Note on the weekly chart, our projection is for the stock market is that it will peak within a couple of weeks and then move into a corrective phase. This coincides with the expected corrective low in the bond market and what we believe will be a period of lower interest rates as money flows back from stocks to bonds. This analysis is also in alignment with our monthly analysis. June-August is a high risk time, based on monthly cyclical patterns. That is in strong alignment with many individual stock cycles.
The short-term analysis, as seen on the daily SPX chart below, is suggestive of a minor dip in the coming week, with further rally expect into the following week.
For thinkorswim users, these the links for chart grids:
SPX: tos.mx/CDW2Sr NDX: tos.mx/qcowZ4
S&P 500 – SPX Weekly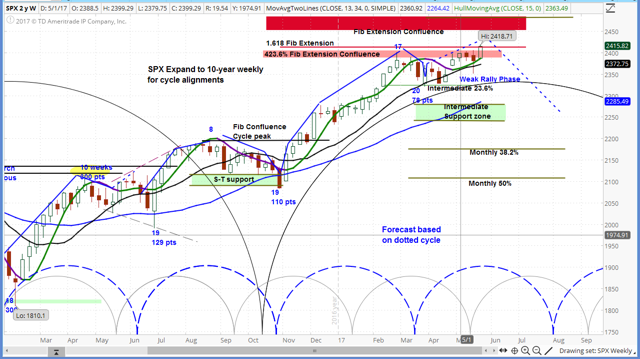 S&P 500 – SPX Daily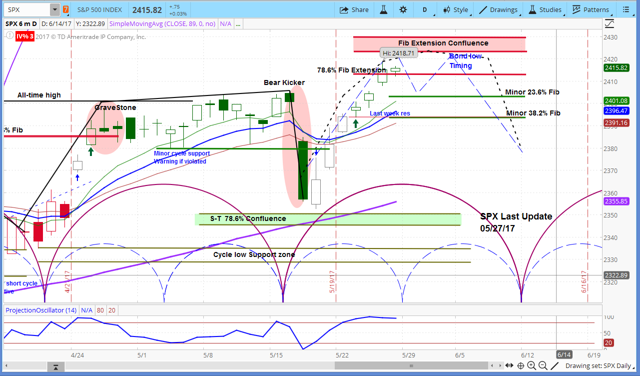 Powered by WPeMatico