S&P 500 (SPX) Chart with Daily Bars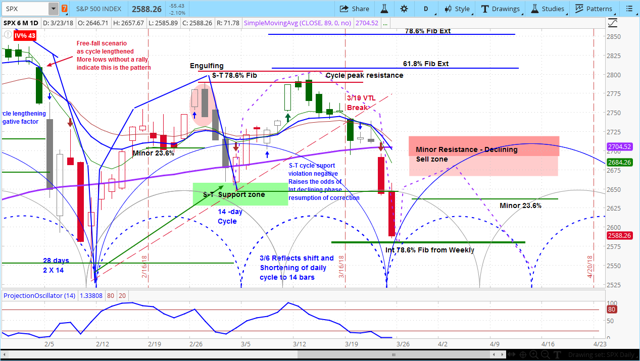 Stocks got pummeled last week as the period of risk that we discussed in our Big Picture Analysis continued with a vengeance.
It began on Monday, with Facebook (FB) figuratively "faceplanting" after a whistleblower provided new insight into how Donald Trump's Presidential campaign used big data and the Facebook platform in the last election. FB lost 6.8% on Monday and 13.9% for the week.
This raised concerns not only about how big data can be used to influence elections, but also how it can be used to market products. Politicians called for Facebook CEO Mark Zuckerberg to testify before Congress, and it is possible that governments in the US and Europe will seek to regulate and tax companies who feature big data in their business models.
On Tuesday, stocks were quiet but the 30-year bonds were down 0.5% in anticipation of Jerome Powell's first meeting as Chair of the Federal Open Market Committee (FOMC). President Trump met with Saudi Crown Prince Mohammad Bin Salman to discuss the sale of an arms package. Crude oil traded $1.34 higher, or about 2.2%.
On Wednesday, the FOMC raised the federal funds rate by 0.25% to 1.75%, which is the sixth rate hike since it began raising rates in 2015. The committee also bumped its economic forecast, which could point to a more aggressive path forward. After days of silence, Zuckerberg allowed CNN to interview him on Wednesday evening, saying "I'm really sorry that this happened." However, his appearance did little to prevent FB from continuing to drop in the overnight session.
On Thursday, Trump announced a new tariff program that targets $50 billion in Chinese imports. Both US and Chinese stocks slumped on the news. That evening, Trump announced military hawk John Bolton as his new National Security Advisor. Bolton has advocated for preemptive strikes on both Iran and North Korea in the past. Oil prices spiked.
On Friday, the stock market stabilized as Trump confirmed additional countries that would be exempted from his proposed steel tariffs. Investors may have taken this as an indication that the proposed Chinese tariffs may have been his typical "opening offer," from which he would later back off. However, after a long week, investors were in no mood to hold risk over the weekend and sold stocks late into the trading day.
For the week, gold was up 2.7%, and oil was up 5.8%, the dollar was down 1.2%, the euro was down 0.5%, and the 30-year bonds were down 0.3% in an overall weak showing.
Based ikn on the chart above, our projection for the S&P 500 (SPX) in the coming week is for stocks to begin to rise early this week. We expect the bounce to last between 3-8 days, likely failing in the resistance zone between 2665 and 2692. However, in an environment like this, risks are high that rebounds fall short of upside targets. Assuming the timing of this bounce is as expected, stocks are then likely to get slammed once again.
For an intro to cycle analysis, check out our new Stock Market Cycles video, or watch the askSlim Market Week show every Friday on our YouTube channel. The latest episode is below.
Powered by WPeMatico