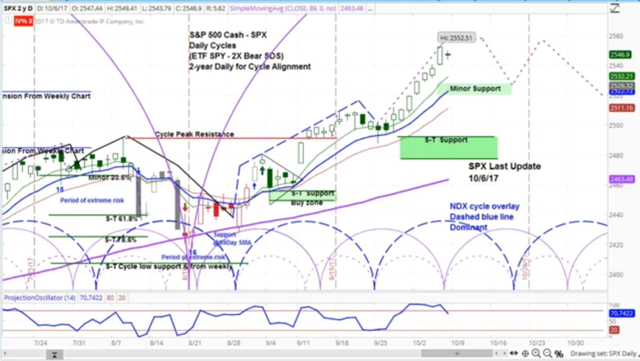 The stock market traded higher last week, with the SPX moving up 30 points to 2549.
On Monday, the markets were down a little on news of a mass shooting upon participants of the Route 91 Harvest Music Festival in Las Vegas. The markets may also have been affected by Catalan independence referendum, which was disrupted by the Spanish national authorities. Yet the markets moved higher later in the day.
On Tuesday evening, President Trump remarked that it may be necessary to wipe out Puerto Rico's debt. As well, rumors swirled around Washington as to whether Secretary of State Rex Tillerson had referred to the President "a moron" and whether he had considered resigning. However, none of these factors led to anything more than a downward blip.
On Wednesday and Thursday, the markets continued to move higher, with stronger than expected survey results from the Institute for Supply Management (ISM). Also, the European Central Bank minutes struck a cautious tone, as officials appeared concerned about the risk of another move higher in the euro.
Only on Friday did the market turn down, with the SPX falling 3 points. This move occurred after the Department of Labor's employment numbers came in a -33,000 compared to an expectation of +90,000, plus a downward revision of -38,000 for the previous two months.
The accompanying chart of the SPX shows our projection for this week: a move lower to perhaps 2520 and then a subsequent move higher to the all-time highs. The purple-dotted half circles at the bottom of the chart illustrate the short-term cycle patterns.
For more a more detailed look at cycle analysis for a broader selection of futures, watch the askSlim Market Week every Friday afternoon.
https://www.youtube.com/watch?v=Zsbx0D7Nsnw
Powered by WPeMatico