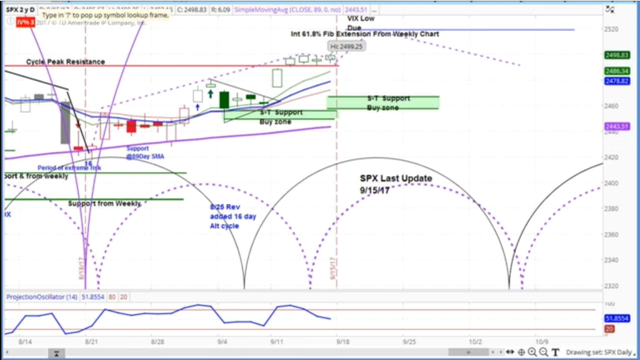 The stock market moved to a new all-time high last week, as the S&P 500 (SPX) gained 39 points to 2500, ending the day on it's high tick.
On Sunday night, the S&P 500 futures gapped higher, as it turned out that Kim Jong Un did not test another missile over the weekend. Also, the dollar bounced higher and gold fell, as stocks reached new all-time highs on Monday's regular trading session.
The accompanying chart shows our projection for this week: a move higher and then a pullback. While the S&P 500 is still climbing up its current short-term market cycle, it is notable that the CBOE Volatility Index (VIX) will reach a cycle low in the coming 3-4 days. As such, after a rally into the coming Federal Reserve meeting on September 19-20, the SPX may decline.
The purple-dotted half circles at the bottom of the chart illustrate the short-term cycle patterns. For more a more detailed look at cycle analysis for a broader selection of futures, watch the askSlim Market Week every Friday afternoon.
Our latest show:
Powered by WPeMatico