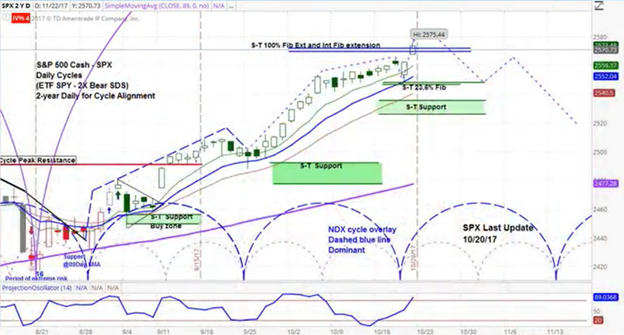 The stock market moved higher last week, with the SPX moving up 22 points to 2575. 
On Tuesday, two US Senators announced a bipartisan agreement to maintain the healthcare subsidies that President Trump had signaled he would cut. This sent the SPDR Healthcare Index (XLV) higher by 1.3%. The measure would still have to pass both houses of Congress. 
On Wednesday, IBM surged 8.9% as its cloud business helped it surpass analyst earnings estimates 2 cents per share. This helped the Dow Jones Industrial Average ($DJI) close at 23,157 for the first time. 
On Thursday, the Hang Seng Index closed 1.9% lower on concern over Chinese deleveraging and Hong Kong interbank rates. Apple (AAPL) shares later dropped 2.5% on speculation of low demand for the newly-released iPhone 8. The S&P 500 (SPX) was initially down by 0.5% but recovered, ending the day marginally higher. 
That evening, the Senate passed a budget resolution that would protect a potential $1.5 trillion tax cut from Democratic opposition. This sent equity futures higher and ultimately the SPX ended Friday 0.5% higher. Bitcoin also continued its drive higher, surging above $6000 for the first time. 
The accompanying chart of the SPX shows our projection for this week: a move higher as the short-term cycle begins, with the potential later in the week to roll over as the cycle matures. The purple-dotted half circles at the bottom of the chart illustrate the short-term cycle patterns. 
For more a more detailed look at cycle analysis for a broader selection of futures, watch the askSlim Market Week every Friday afternoon.
https://www.youtube.com/watch?v=GyoXhD77jwI
Powered by WPeMatico