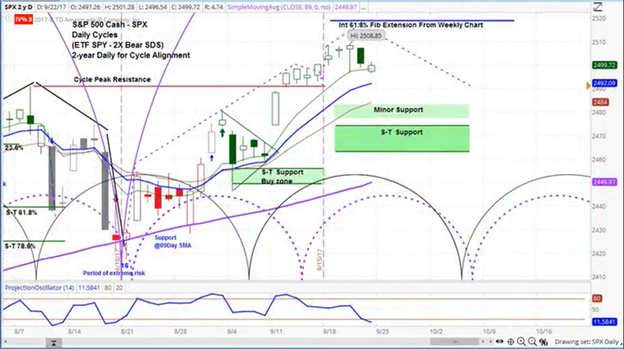 The stock market was sleepy last week, despite international tensions and legislative activity, with the SPX moving 2 points higher to 2502.
On Tuesday, President Trump made a speech at the United Nations, declaring that the United States would "totally destroy" North Korea, if forced to defend itself or its allies. This resulted in some back and forth between Trump and North Korean leader Kim Jong Un, which had minimal impact on the markets.
On Wednesday, users of the new Apple Watch reported connectivity issues. Coupled with other questions about it latest round of products, Apple (AAPL) fell 5% on the week. As well, the Federal Reserve held steady on interest rates while Chair Janet Yellen struck a hawkish tone on the prospects for starting the reduction of its balance sheet in October and a raising interest rates in December.
These factors may have contributed some downward pressure. Yet in the end that pressure was minimal, as buyers responded positively to nearly every dip, which kept price action in a tight range.
The accompanying chart shows our projection for this week: a move to the downside with an initial target of 2483. The purple-dotted half circles at the bottom of the chart illustrate the short-term cycle patterns. The current cycle projects downward price action for the next week and a half.
The CBOE Volatility Index (VIX) last week hit what may be its short-term cycle low. If this holds, it may indicate that an uptick in volatility is due. This contributes to our expectation for lower price action in the stock market.
For more a more detailed look at cycle analysis for a broader selection of futures, watch the askSlim Market Week every Friday afternoon.
Powered by WPeMatico