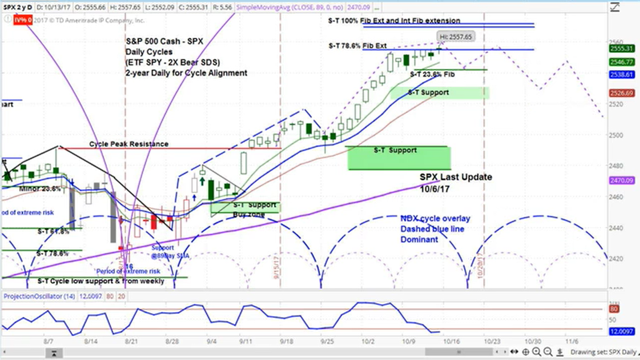 The stock market grinded higher last week, with the SPX moving up 4 points to 2553. 
The market rallied into the release of the FOMC minutes on Wednesday, which indicated that the Fed was less than certain about an interest rate hike in December. The prospect of continued easy money drove stocks modestly higher.
On Friday, the Department of Commerce reported that retail sales increased by 1.6% in September, which is the highest since 2015. The figures were influenced by the recent hurricanes that increased demand to purchase replacements for damaged autos.
The accompanying chart of the SPX shows our projection for this week: a move lower as the short-term and intermediate cycles converge midweek. The purple-dotted half circles at the bottom of the chart illustrate the short-term cycle patterns. Once the new cycles begin, stocks will likely turn around again for a move higher.
For more a more detailed look at cycle analysis for a broader selection of futures, watch the askSlim Market Week every Friday afternoon.
Powered by WPeMatico