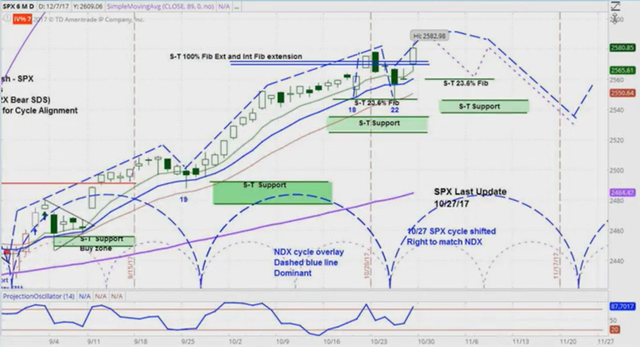 The stock market moved higher last week, with the SPX moving up 6 points to 2581, which is a new all-time high. 
On Monday, the White House announced that the President would soon release the name of the "new" Federal Reserve Chair. This implied that it was unlikely to be Janet Yellen, and perhaps someone with a more hawkish approach.
On Tuesday, a report surfaced that Apple (AAPL) would only produce half of the expected number of the iPhone X due to production complications. Apple traded lower on that news but later bounced as the company confirmed that the iPhone X would be in Apple Stores starting November 3.
In the absence of significant news, stocks traded lower on Wednesday and then chopped around on Thursday. But stocks traded firmly higher to end the week. This was led by Amazon (AMZN) who not only beat earnings and revenue expectations, but accelerated sales growth for the fourth straight quarter.
AMZN traded 13% higher on the day. Google (GOOGL) and Microsoft (MSFT) also reported strong earnings, all of which pushed the NASDAQ 104 points higher to 6213.
The accompanying chart of the SPX shows our projection for this week: a possible move higher but then trading slightly lower on the week, as the current short-term cycle draws to a close. The blue-dotted half circles at the bottom of the chart illustrate the short-term cycle patterns.
For more a more detailed look at cycle analysis for a broader selection of futures, watch the askSlim Market Week every Friday afternoon.
Powered by WPeMatico