The stock market was down modestly last week, with the S&P 500 (SPX) closing 10 points lower, or about 0.4%, to 2381 on Friday.
Despite a strong rebound at week's end, typical of this old bull, Wednesday's price action, with the S&P 500 dropping 43 points, seemed to change the tone in the market. That 1.8% daily drop, the worst in eight months, illustrated the risks to this stock market once a correction sets in. The CBOE's Volatility Index (VIX), which measures the implied volatility of the SPX, shot up to 15.59 from the previous day's close of 10.65, a 46% increase, further illustrating the how participants were leaning to the long side, and what can happen when they try to find an exit.
The stock market's decline, on Wednesday, began when it was revealed that former-FBI director Jim Comey, had kept detailed official memos of his meetings with President Trump. One memo indicated that the President had asked Comey to "let this go," referring to the federal investigation into Michael Flynn, Trump's former national security advisor. While the president's trip to the Middle East has started out with some good headlines, with big defense deals, his troubles back at home are not going away; likely to continue to bring investor angst.
For this week, our projection is for the SPX may bring some slightly higher prices early in the week, with our cycle analysis suggesting a minor rise has just begun. The small gray half circles on the bottom of the chart are called "Cycle Brackets;" our guides to cycle patterns, the rhythms of the markets. . Later in the week, this cycle will give way and the SPX will face more downward pressure.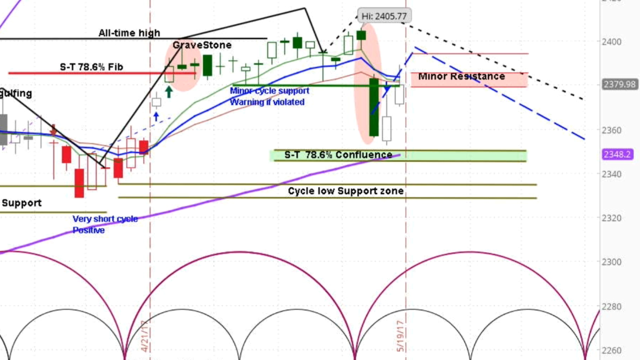 In the Market Week video released on Friday, we discussed the significance of Wednesday's "bear kicker" pattern. This technical pattern is when a market that is tending up gaps down and continues down. This often signifies a new trend with a significant move to the downside.
If our analysis holds true, then the market has topped and the summer holds significant downside action. In fact, this may be the market correction that we have been writing about for the last several weeks.
Watch the askSlim Market Week for more information on market cycles as well as my short-term view for the coming week:
https://youtu.be/GSW79y9dYLc
Powered by WPeMatico