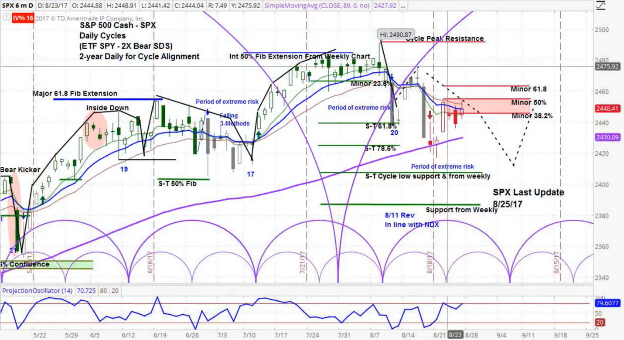 The stock market moved higher last week, as the S&P 500 (SPX) gained 18 points to 2243, which broke a streak of two down weeks.
Stocks were range-bound on Monday and then moved up 1% on Tuesday, with defense stocks rising after Trump's speech on about a renewed effort in Afghanistan. Also contributing was enthusiasm about the prospects for tax reform, which will likely be next on legislative agenda.
After that, the market resumed range-bound trading for remainder of the week. This may have been related to anticipation of the annual central banking conference on Friday, which turned out to offer very little in terms of market moving information.
Our work in analyzing market cycles points to a move lower in the S&P 500 for the coming week. The accompanying chart uses blue-dotted half circles to illustrate the short-term cycle patterns. The intermediate cycles suggest that weakness will continue through late August or early September.
For more a more detailed look at cycle analysis for a broader selection of futures, watch the askSlim Market Week every Friday afternoon.
Draghi-Yellen Felon? askSlim Market Week 08/25/17
Powered by WPeMatico