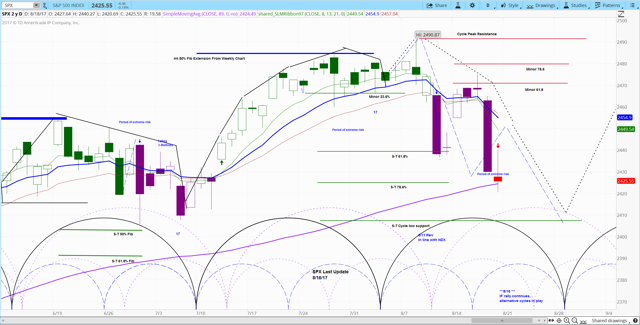 The S&P 500 (SPX) had its second down week in a row, losing 16 points to 2425. The market rose early in the week with concerns about foreign affairs having eased, but then fell again after doubts resurfaced about the Trump policy agenda. 
Many of last week's market moving events were political. The stock market was up 1.1% on Monday, as investors were relieved that a military conflict between the US and North Korea was unlikely. On Tuesday, President Trump's confused messaging related white nationalist protests raised eyebrows but did not move the market. Yet the comments prompted business executives to resign from White House advisory councils on Wednesday. 
The market fell 1.5% on Thursday on a rumor that Gary Cohn might resign from his post as National Economic Council director. President Trump later dissolved the advisory councils, and by Friday, his ability to execute his economic agenda looked uncertain. But after the hard selling on Thursday, the market didn't do much more than bump around as news broke that Steve Bannon's was out as White House Chief Strategist. Based on Bannon's comments after leaving, he will attempt to continue to play a role in politics, as he immediately returned to his position with Breitbart News. 
Our work in analyzing market cycles points to further declines in the S&P 500, as bounces will likely be met with additional selling. Intermediate cycles suggest that weakness will continue through late August or early September. The accompanying chart illustrates our short-term cycle projections, with the blue dotted half circles representing the short-term cycle patterns. 
For more a more detailed look at cycle analysis, watch the askSlim Market Week every Friday afternoon.
Trump agenda in doubt, is there a way out? askSlim Market Week 08/18/17
Powered by WPeMatico