The stock market moved up strongly last week, with the S&P 500 (SPX) closing 34 points higher. The 1.4% gain brought the broad-market index to 2416, another all-time high.
President Trump spent the week on a multicounty trip, focused on relations with Middle Eastern and European allies. The improved optics enable him to set aside a slew of domestic problems, like a stalled agenda, staff leaks and the Russian probe. His return on Saturday is sure to bring those issue into focus again.
On Wednesday, Fed Chair Janet Yellen noted the economy is doing well and that the Fed will likely rise rates in June. She also noted that we faced "vulnerabilities" related to asset valuations. The market trudged higher despite these comments.
On Thursday, OPEC announced a 9-month extension of their production cuts in an attempt to reduce the oil supply glut. However, the market promptly "sold the news" and crude oil prices subsequently fell over 5%. There continues to be significant doubts that these cuts will stabilize a market in which US producers keep picking up production.
Having already passed $2000, Bitcoin continued to rise last week, surpassing $2800 before finally losing steam. The question remains: Does the Bitcoin surge reflect the desire for huge investors to flee from constantly debased fiat currency, getting ahead of some crisis not yet apparent? Or is this just a spectacular speculative anomaly?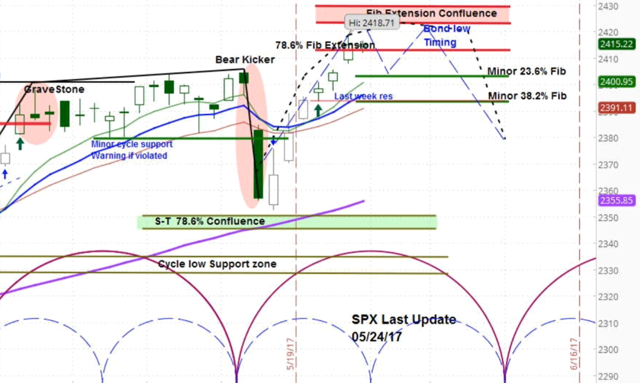 Daily chart for the SPX on the thinkorswim platform
The market opens the new week with scary news related to N. Korea's latest missile test, which landed in the Sea of Japan. Japan is now threatening retaliation, along with the US. For this week, our projection is for the SPX to pull back early in the week. However, that should only be minor, with a rising short-term cycle phase still in place. Cycle lengths and timing are depicted on the chart by the half circles on the bottom.
In the Market Week video, released on Friday, we discussed our projected bond low coming in the first or second week of June. Once this happens, bonds will likely start moving up again, which would imply downward pressure in the stock market. We expect this pressure to be significant once it finally takes hold.
Watch the askSlim Market Week for more information on market cycles as well as my short-term view for the coming week.
WATCH the show here: youtu.be/TJFkb4yNMB8
Powered by WPeMatico