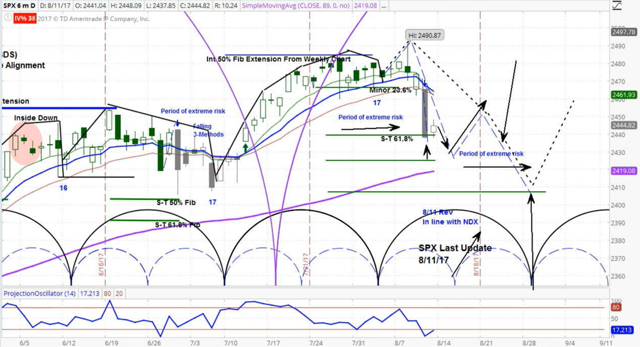 The S&P 500 (SPX) had what has become a rare decline, last week, losing 35 points to 2441. Stocks fell in part due to tensions between North Korea and the United States and in part due to an excessively overbought market and corrective market cycles playing out. And headlines are not getting much better this week with the violence in VA and the demonstrations around the country. 
Last week, on Monday, Fed head James Bullard opined that there is no need to raise interest rates, which pushed stocks up. The momentum continued Tuesday, as Apple hit a record high of $261.83. However, later that day, President Donald Trump vowed to respond with "fire and fury" if North Korea continued to threaten the United States. This produced an intraday reversal of 17 points in the S&P 500, in a classic reversal day. Our work suggests that high will be a significant chart point moving forward. 
On Wednesday, stocks bounced during US trading hours, as gold and bonds also rose in a safety bid. But world stocks tumbled again in Thursday's Asian trading session as Kim Jong Un threatened to fire missiles "near" the US territory of Guam. In response, the SPX fell 36 points, or 1.5%. The decline hit our targets for the week, almost spot on. Friday, stocks bounced modestly in response to weaker inflation data. 
The question is will the bounce continue or is there more downside? Our work in analyzing market cycles in the SPX points to further declines. We believe bounces will be met with additional selling and further sharp drops lie just ahead. Intermediate patterns suggest weakness likely continuing through late August or early September. The accompanying chart illustrates our cycle projections, with the blue dotted half circles representing the short-term cycle patterns. 
For more a more detailed look at cycle analysis, watch the askSlim Market Week every Friday afternoon.
Fat man and the little boy – askSlim Market Week 08/11/17" frameborder="0″ allowfullscreen>
Powered by WPeMatico