Amazon (AMZN) dropped 5% on Wednesday morning, after a new report that President Trump may go after the tech behemoth.
Washington-focused news outlet Axios reported that, according to multiple sources, "Trump hates Amazon." In fact, one source proclaimed that, "he's obsessed with Amazon – obsessed." Notably, CEO Jeff Bezos also owns the Washington Post, which has engaged in investigative reporting on controversies surrounding Trump.
"Trump tells people Amazon has gotten a free ride from taxpayers, " according to Axios, who also noted its "cushy treatment from the US Postal Service."
Given AMZN's $200+ price to earnings ratio, it isn't that surprising the stock is trading lower today. Presumably, the PE ratio would be lower, but for the company investing its profits into potential new lines of business that could propel future growth. This is the reason that investors have tolerated this metric at such high levels.
In using market cycles to analyze the weekly chart below, our view is that AMZN may rebound into a resistance zone currently around $1500. Next, the stock could drop to near $1330, as the late-May period approaches and the current intermediate cycle moves into its final phase. Such final stages often bring the biggest risk of decline.
Amazon (AMZN) Stock Chart with Weekly Bars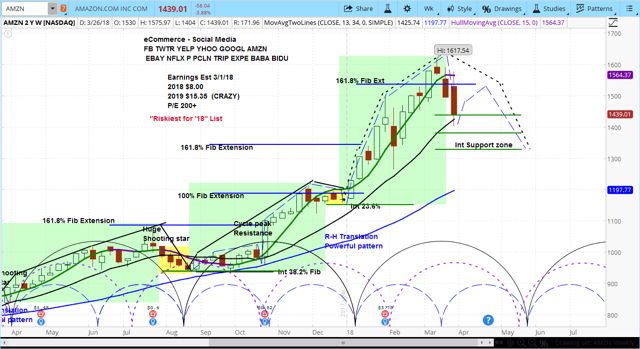 For an introduction to cycle analysis, check out our Stock Market Cycles video, or watch the askSlim Market Week show every Friday on our YouTube channel.

Powered by WPeMatico