Under Armour (UAA) surged 15% after it reported earnings per share that met Wall Street estimates and exceeded on revenue, posting $1.4 billion versus the $1.3 billion expected. In addition, management announced that it would continue the restructuring efforts it started in 2017 to refine key components of its operations.
UAA's performance in Q4 and plans for continued improvement could be building a bullish base for later this year. Today's surge in price puts the stock into a red resistance zone for its current market cycle, as seen on the chart below. However, we expect a pullback at the cycle comes to a close and the next cycle begins.
This would create a bullish base for UAA, presuming the stock doesn't fall below the cycle low of $11.40 set for the previous cycle. Keep an eye on this one into April. The market cycles on the chart below are designated by the purple semicircles at the bottom of the chart.
UAA Chart (Weekly Bars)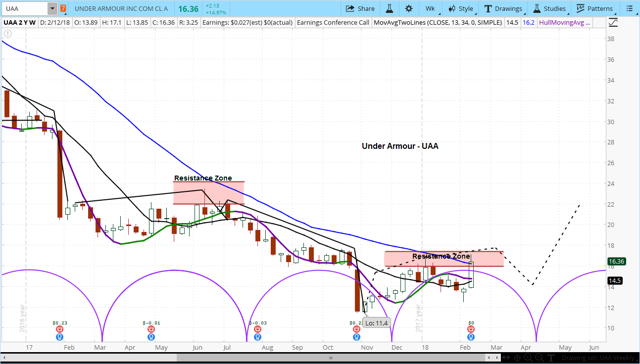 Visit our site for more on our approach to using market cycles to analyze stocks.
Powered by WPeMatico