The stock market was higher last week, with a double gap up in the charts on Monday and Tuesday. The S&P 500 closed 35 points higher, gaining about 1.5% on the week. The gains were largely due to widespread approval (relief) amongst investors with the results of the French election, with low odds of right-wing, anti-euro, nationalist, Marine Le Pen, winning in the second round on May 7.
The market continued to rally on Wednesday, encouraged by the pending announcement of the President Trump's tax plan, which now has met huge skepticism of passing in its present form. The market peaked at 2394, just below its all-time high of 2400, and then sank after the announcement in a seemingly "sell-the-news" reaction.
Our work suggests the S&P 500 will meet upside resistance this week and move lower towards week's-end, testing the support zone of 2363-2373, completing the short-term cycle depicted in the chart below. However, following this brief correction, the market will likely head higher over the next couple of weeks, testing the market's all-time highs again. That is when we see trouble starting for the US stock market, with a summer that has potential of being rocky.
Watch the askSlim Market Week for a review on what happened in the markets this week and my short-term view for the coming week.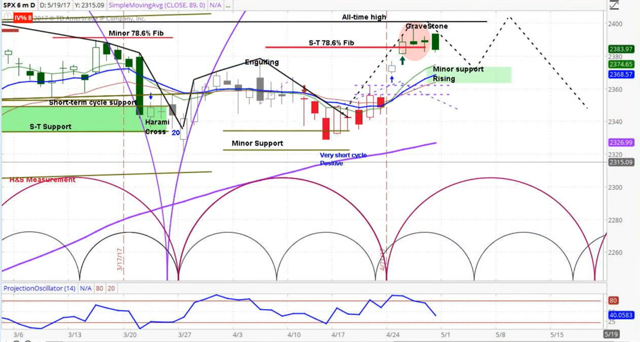 Powered by WPeMatico